State of Decay
Posted June 6, 2013 by Daniel Barker in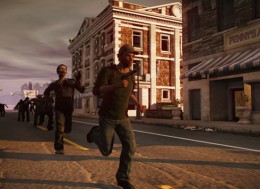 Game Info
:
:
:
:
:
:
Our Thoughts
Undead Lab's open world zombie survival horror video game State of Decay is an enjoyable, adrenaline pumping RPG experience.
State of Decay Is Filled With Zombie Killing Action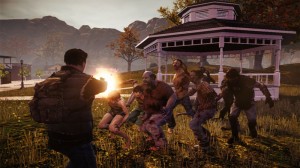 State of Decay launched on Xbox 360 Arcade & for Windows, this downloadable single player game is available at a sum of 1600 Microsoft Points. Yes this is another zombie based title that's swirling around the video game market. After journeying into the open world with cautious optimism I have come to absolutely adore what State of Decay is all about. After viewing the trailer my heart filled with dubious expectations, I am happy to report this release sinks its terrifying claws right into you and serves as an exceptional product to add into any survival horror fans collection!
You can expect a fuse of different gaming elements to concoct a well rounded survival experience that doesn't appear to have any genuine rival. Initially you'll take the role of Marcus who has returned to civilization from a hunting trip with his friend, and then the game opens up a leisurely path to gradually teach you crucial aspects in State of Decay that are detrimental to surviving the peril that lurks in the open World ahead.
Typically as a zombie title there are guns to fire, melee weapons to hurl around and opportunities to scavenge for supplies. Untypically these are executed differently, with more gravity to the surrounding environment and interconnect to other factors that will be playing on your mind because they demand constant consideration. As an example to that statement many any of us are familiar that gun fire attracts zombies that we've learned already. State of Decay pushes that step further by offering you an option to search supplies quickly that can also cause a racket and alert a horde directly to your vicinity. Searching hastily sometimes is a choice that needs to be done as an enemy may already be approaching. The trick is prioritization; every action such as this can tip the balance of how you control a situation completely on its side.
Be warned your character not only has a health bar but also a stamina meter one to boot. Zombies are portrayed with terrifying precision as they can chase you relentlessly and outnumber your options to leave deadly situations in one piece. Fighting & escaping drains energy that can spell your demise if not utilized wisely, defending yourself often means finding a method that provides a quick escape and preserves resources.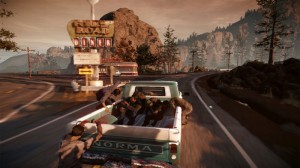 Guns jam due to inexperience, melee weapons break as they deteriorate, vehicles do not re-spawn when they are damaged beyond repair, and the supplies you desperately require seem scarce. That part alone doesn't begin to emphasize the strategic thoughts which State of Decay beckons the use of party members & the formation of communities brings a fresh dynamic to the genre. I stated above that you originally start the game as Marcus, the further you move the more opportunities you're given to switch character on both a temporary & permanent basis. Switching from your main character gives them a chance to gain some much needed rest whilst developing another member to reinforce your social circle. Each character possesses their own traits and can all be developed through a balanced leveling system that flows naturally.
Communities are literally a group held up at a fenced location that's referred to as home. Like a home you need to supply & protect it. Other characters around you show a Sim style morality function that fluctuates depending on their mood. If food, medicine, ammunition or other stockpiles are short, it negatively effects how people are feeling back at your base. You're given various tools to help manage a community and expand it by building additional areas including a combat training feature, sleeping bunker, a medical area etc. This does mean constantly needing to source equipment however that is a cause of exploration rather than a tedious task. Speaking of exploration, you can discover different locations to move your home, setup outposts, meet survivors garrisoning buildings and interact with scavengers. The map itself appears relatively proportionate, since I have been practically surveying the environment the game feels increasingly larger than first perceived. There's an overwhelming amount of places to investigate, the power to dictate the player's destiny & the communities does fuel the desire to keep playing.
"A truly unique role playing game at heart!"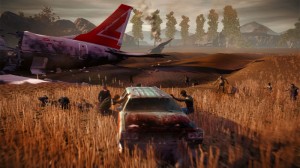 Presentation wise State of Decay looks good and sounds good. Unfortunately a couple issues are present that are a frame rate jitter as well as textures that pop up on screen with a delayed reaction. These are forgivable flaws that will probably be patched up with an update soon.  Controls swiftly become comfortable as they use a common template. LT to aim + RT to fire, a simplistic and second nature scheme. Undead Labs who developed State of Decay are using this title as a platform for their first MMO Zombie project (codenamed Class 4) that's intended for major console release. I had hoped this would have included an online coop mode to give players a taste of what Undead Labs has planned in the future with Class 4.
Closing comments
State of Decay doesn't churn your emotions like the telltale Walking Dead series but definitely excels with its immersive game play and dynamic mechanics that breaks the mold. It puts some major game releases to shame as State of Decay keeps you wanting to jump back to the adrenaline inducing life & death fight for survival.Despite its defects which don't honestly harm the games enjoyment, State of Decay glimmers with promise and deserves top praise for the ambition Undead Labs have demonstrated.