Injustice: Gods Among Us
Posted May 9, 2013 by Mark Rowland in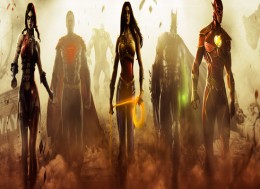 Game Info
:
:
:
:
:
:
:
Our Thoughts
Superior strength, incredibly fast speed, and ever growing variations of laser beams, mutations and otherwise abnormal superpowers are all found in this titanic game, Injustice: Gods Among Us.
DC Titans Go Toe To Toe In Injustice: Gods Among Us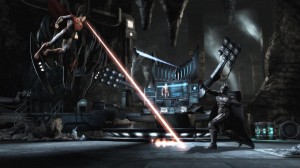 Superior strength, incredibly fast speed, and ever growing variations of laser beams, mutations and otherwise abnormal superpowers are all found in this titanic game, NetherRealm's Injustice: Gods Among Us. These heroes and villains, coming from the DC universe, battle to the finish time and again happily and sometimes brutally, displaying their strength and skill. Some of the major players (such as Superman, Batman, and Wonder Woman) have powers and strengths that are expected, as any fan could tell you, but some of the other heroes have combos and abilities that sneak up on you. For example, Grundy uses his strength and grapples to pulverize his enemies into submission. I'm not going to list every hero and villain in Injustice: Gods Among Us (no fun for you to discover then), but I want to talk about the unique combat system and how it is employed in a way that is unlike any fighting game I've played.
I say it's unique because when you look at the various combos and move sets each character has, right besides where it tells you what buttons to press to execute a combo, the frame rates for each move has been listed; from the time it takes to recover from an attack, to the damage and armor penetration you can achieve. I haven't seen that in anything I've played, which caught my eye right away and speaks to the attention of detail they provide to the player. Also what drew my attention to Injustice: Gods Among Us are the stages and level transitions you can perform to change the tide of battle; from smashing someone through the bat cave, to throwing them across metropolis. Deep, adrenaline inducing, cinematic visuals add a great amount a satisfaction to the game but those do not stop at the background imagery. Those extend into the characters themselves and how they interact with their environment.
Fleshed out and made to look like they were ripped right off the page, the costumes in Injustice: Gods Among Us are also intricate, in that they are true to the character from the comics but also have a gritty and battle ready feel when you see them. Many have secondary costumes, and future downloadable content will provide more. DLC is something that I have greatly looked forward to, and at the time of this writing, the new Batgirl addition should give anybody an extra edge. The story mode is interesting in itself, as you take on and switch between various characters throughout and get to see things from their perspective; the heroes and villains are thrown into an alternate universe, which makes for amazing backdrops of skylines and street brawls. At one point in the story you fight as the same person, Batman vs. Batman, in a clash to see who the true dark knight is; yet, as most of us realize, a fighting game is not just about a single player experience, it's about kicking some butt with one of your friends or online. This is where multiplayer comes into play.
Multiplayer on Injustice: Gods Among Us has been something of an experience; the searching and creation of rooms to play in are numerous, as are the skill level of the players. The True Skill ranking system is employed when matching opponents, and connectivity is better than most fighting games. More than just the simple one versus one, you have a few other games modes that will test your mettle; there is King of the Hill, which allows many players of similar skill to battle for the top spot. There is also something that has a different twist, and that is Survivor; which is like KOTH but instead of regaining health at the beginning of matches, you have to survive for as long as you can match after match. During the matches, you can set challenges for you (or your opponent) to complete to add bonus experience points, and in the case of Survivor, health regeneration. Letting players select which arena they want to use and voting as to who will win adds a bit of added apprehension when watching a fight. For those heroes that need brushing up or those that want to just take a break from it all, there is a very robust training system set up.
This training ground allows you to select any hero you want to go against, and puts you in the arena you select. From there, you can customize how you battle; you can change whether or not your opponent can attack, what powers are used, the difficulty of the AI, and you can even select which combos you can see while playing so you can reference them during battle. All of this makes for a great game, but it is those little extras that really stand out in our minds. Your profile has a player card attached, which you can customize as you play more and get more creative with how you play. When you level up, you can unlock more portraits of your favorite characters, which you can proudly display on your player card, along with accompanying emblems. Switching from what you can do as far as displaying your achievements to earning some serious experience with each person, the S.T.A.R.S. Laboratory mode is made up of little missions that are unique to each character, and (in my experience) challenging; each has their own set of missions tailored to not only keep you on your toes, but also make you think of new ways in which to battle your opponent. With each new mission constraint satisfied, from chaining together a combo to staying alive for a certain amount of time, you earn stars that unlock more missions for you to try. All in all, Injustice has shown that not only is it a blast to play, but also that only true heroes have what it takes to master their favorite character and conquer evil.