Tyniece Hall Swagger Boutique
Posted September 21, 2012 by Celeste Davie in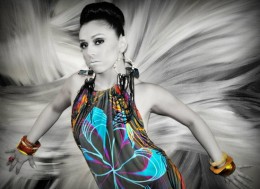 Overview
:
Our Thoughts
Tyniece Hall creates her own style. She has a niche for putting together unique fashion looks. This entrepreneur woman is ready to take the fashion world by storm with her ultra hip and trendy designs.
Swagger Boutique's Ultra Hip Designs
You know you're destined to be in the fashion business when you design, show, and create unique pieces. It may be a dream job for most, but it takes passion, man-hours, hard work, and a creative mind to be successful. This must be the reason why Tyniece Hall is quickly becoming the new it woman. She started off working in a friend's boutique called Diva Darlings. While working there, she gained the creative opportunity to style women.
In 2008, Tyniece established her own business, Swagger Boutique for Handbags, Accessories and Footwear. In 2012, she became the co-owner and designer of her signature shoe line SwagSoulye Footwearable Art, which is a compilation of Swagger Handbags, Accessories and Zarif Soulye. Her designs are hip and swaggered out on a funky tip. Tyniece designs for women who desire a fashionable trendy look. Swagger Boutique for handbags, accessories and footwear is quality merchandise that is available conveniently to women at an affordable cost. As a woman entrepreneur, Tyniece Hall is passionate about her business, she never gives up, and she always keeps the faith. Look for her accessories as they will make an appearance at the LA Fashion Week 2012. In her interview with me, she chats about her passion for fashion.
CD: What interest you about fashion?
TH: The variety of styles. Fashion is form of expression and I'm a firm believer in people expressing there own individual style.
CD: Why did you want to be a fashion designer?
TH: Initially I thought I was going to be a Kindergarten teacher. The world of fashion wasn't introduced to me until my teenage years when I wanted to model. From that point I became addicted to fashion, lol! But as I look back on my adolescent years it was always present, I just didn't know it.
CD: How long have you been designing jewelry?
TH: I have been designing jewelry for 2 years.
CD: How do you become inspired for a certain design?
TH: Sometimes designs just come to me out of nowhere. But mainly I get my inspiration from everything, art, shoes, music, clothing….Life.
CD: What was your favorite piece of jewelry you ever designed?
TH: Hmm…. Well at moment my favorite is not jewelry, it's my GlamRock Vest Punk Vest. I really don't have one favorite piece of jewelry. But to name a few: GlamRock Hoops, Rep Your City Hoops, Globetrotter Ring and Body Chains.
CD: How long does it usually take you to construct a piece?
TH: Well each piece is different and it depends on how much detail is involved. It ranges from 1hr – 8hrs.
CD: Describe the general process you go through to design and realize a piece of jewelry.
TH: Sketching, design layout and construction. I create a story for each piece and choose color(s), size and weight.
CD: What are some of your accomplishments as a designer?
TH: Being chosen as RAW:natural born artist twice! And a feature on local news station Good Day Sacramento, magazine features, working with talented photographers, fashion shows features and placement in boutiques.
CD: Who's you favorite designer?
TH: Ohhhh I have lots! Just off the top of my head…. Alexander McQueen, Rodarte, Yves Saint  Laurent, Jeffery Campbell, Roberto Cavalli, Taylrz Joynt, Maisha Bahati, Headbangers and Tyniece Hall.
CD: What do you hope to achieve in the industry, 10 years from now?
TH: To be an international brand! I want Swagger to grace runways worldwide and have placement in trendy, upscale boutiques.
CD: Where can our readers buy your Swagger Designs?
TH: Swagger designs can be purchased at www.swaggerboutiqueonline.com and Legacy Boutique in Sacramento, Ca and Taylrz Joynt in Oakland, Ca.