The Dyrdek Holiday 2012 Collection
Posted December 4, 2012 by Dante Scott in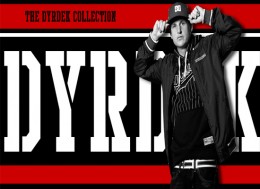 Overview
:
:
Our Thoughts
Designed by Rob Dyrdek, The Dyrdek Holiday 2012 Collection is inspired and driven by DC's classic athletic skate heritage.
DC and Rob Dyrdek Announce The Dyrdek Holiday 2012 Collection
Designed exclusively by Rob Dyrdek, the Dyrdek Holiday 2012 collection is inspired and driven by the DC legacy of classic athletic skate heritage. Within the entire Dyrdek Collection there are two signature shoes and five mini apparel collections: The Alumni Collection, Baseline Collection, Covert Collection, Heritage Collection, and USA Collection, each with their own individual take on Rob's signature style
Alumni Collection: Collegiate inspired style. Classic lettering paired with iconic DC and Rob Dyrdek logos. This collection includes the RD Alumni Luck Tee as a throwback to one of Rob's first signature apparel collections with DC, Make your Own Luck.
Baseline Collection: Athletic sportswear style with a DC twist. Still incorporating the collegiate feel with the signature RD Letterman Jacket, the Baseline Pullover and the Baseline tee add a team vibe to this group with classic baseball stripes and cursive lettering.
Covert Collection:  Classic camo is transformed with Rob's personal style pairing patriotic colorways and the classic DC logo.
Heritage Collection: Simple and iconic, this group embodies the basics. Classic DC Shoes logos and colorways on the three staple styles; a tee, long sleeve, and a snapback hat.
USA Collection: This group features the most styles in the collection ranging from jackets, tees and hoodies, with the addition of denim and belts. Two denim fits are offered in three classic colorways including an indigo rinse, grey rinse, and overdyed black.