Tanzore Indian Modern Cuisine Beverly Hills, CA
Posted August 30, 2012 by Celeste Davie in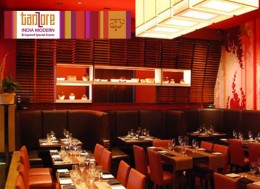 Restaurant Info
:
:
:
Our Thoughts
Tanzore serves modern Indian cuisine in the upscale Beverly Hills area. Angeleno Magazine recently named Tanzore as one of the Best 50 Los Angeles Restaurants and LA Magazine named it one of the Top 75 Restaurants.
Modern Indian Cuisine At Tanzore In Beverly Hills
When you come to Beverly Hills you expect nothing but the best-of-the-best. This city is known for its renowned shopping district, world-famous residents, and upscale restaurants. Tanzore is a contemporary Indian restaurant located on La Cienega's Restaurant Row. The extraordinary ambiance and star-studded clientele is the hallmarks of this Beverly Hills restaurant.
Dining at Tanzore will have you feeling like you traveled to Bombay. As soon as you enter the hand-carved wooden doors, you've stepped into what looks like a palace worthy of a Maharajah. You're met by Indian spiced colored walls and a giant wood and brass treasure chest that was hand-carved by Indian artisans. The electric blue lounge area has Bollywood classics projected on the adjacent wall. This upscale posh dining room is filled with low comfy seats and sleek leather chairs. There's a 2000 bottle, glass enclosed wine locker room and a regal private dining room located in the back.
Tanzore's menu is traditional Indian food mixed with fusion. Items on the menu are made with fresh California native ingredients. This restaurant is fantastic and has unparalleled service. Our attentive and friendly waiter explained in detail the items on the menu that we didn't know about. This was great because I am always up for trying something new.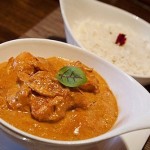 We started with three appetizers: vegetable samosa, tandoori chicken tikka, and tandoori paneer.  Samasa and tandoori chicken are my all time favorite Indian dishes. After the appetizers came the five shareable entrees: saag paneer (spinach and Indian cheese), dal makhani (lentil stew), fish curry, basmati rice and naan (oven baked flatbread). It was my first time eating these entrees and I must say they were good.
Although I'm not really a dessert person, I ordered them anyway.  I mean when will I ever taste a fusion Indian dessert. So we tried the kulfi (frozen dairy dessert) and gulab jamun (dough consisting mainly of milk solids then dipped into a sugar syrup). I do not recommend the desserts. They were very different to say the least.
Dining at Tanzore was definitely a world-class experience in Beverly Hills. I've had Indian cuisine before, but this food was beyond anything I ever tried. This is what fusion should taste like. It was classic Indian cuisine filtered through 21st century cooking style. The enchanting backdrop for dinner was transcendental. Tanzore in Beverly Hills creates the perfect setting for a romantic dinner, private dining, or great gatherings with wonderful friends.
Location/Hours of Operation
50 North La Cienega Boulevard
Beverly Hills, CA 90211
(310) 652-3838
HOURS – OPEN 7 DAYS
LUNCH BUFFET: Mon – Sat 11:30am – 2:30pm
Sunday Champange Brunch 11:30 – 3pm
DINNER:: Sun – Thurs 5:30 – 10:30pm & Fri & Sat 5:30 – 11:00pm