Lillie Mae's House of Soul Food San Jose, Ca
Posted April 10, 2013 by JLynn in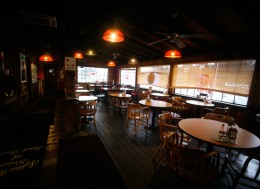 Restaurant Info
:
:
:
:
:
Our Thoughts
Lillie Mae's House of Soul Food serving up soul food the right way with love in every dish.
Serving Up Soul Food The Right Way – Lillie Mae's House of Soul Food
If you are from the San Jose, Ca area you know when you are craving soul food there is only one place to go and that is Lillie Mae's House of Soul Food.  If you are not from the San Jose area my advice would be to get there and try Lillie Mae's House of Soul Food. It will be a palate pleasing and unique experience in soul food that is "soul" good!
Originally named The House of Soul Food, Lillie Mae's closed its doors in 2006 in order for Chef Rhonda Manning to give birth and spend time with her newborn son Major. Chef Rhonda Manning reopened in 2010 in a different location and renamed the joint Lillie Mae's House of Soul Food after Manning's Paternal Grandmother Lillie Mae Gaulden. Rhonda learned the art of creating soul food as a young girl from her grandmother Lillie Mae.
Located on Coleman Ave, behind Mineta Intl Airport, this is the place to get your grub on! Lillie Mae's House of Soul Food is always hoppin so get ready to stand in line. Once inside you will see a portrait of the Matriarch herself Lillie Mae Gaulden. Ordering your meal is as simple and painless as walking up to the counter, placing your order and wait for your number to be called. The dining room is a bit noisy but it's comfortable and very clean. While dining you can watch one of the big screens located throughout the restaurant or sit outside on the patio.
Lillie Mae's House of Soul Food menu offers lunch and dinner plates with tasty mains like their BBQ soul food burger, Big 'Ol Smoked BBQ Turkey Leg, fried catfish, southern fried chicken just to name a few. They also have combination plates with delicious pairs such as beef brisket and hotlinks, BBQ chicken and pork ribs, catfish and fried wings and many more. All plates and combinations come with your choice of soulful side dishes including potato salad, fries, sweet potato fries, coleslaw or their Boomin Bake Beans and white or wheat bread. Lillie Mae's House of Soul Food is serving up soul food staples done the right way with Lillie Mae's love in every dish!
One of my favorites is the fried chicken wings. The batter is cooked to a perfect crispiness and the chicken is juicy and seasoned just right, making it simply delish! Another favorite is the bbq ribs. The meat is tender and falls off the bone. While I'm not a fan of any kind of sauce on my ribs this sauce is tasty. The smoky, tangy flavor wasn't overpowering (which is why I don't like most sauces). Whatever you order you can't go wrong.  This is definitely the spot to get your soul food fix!