HK Hells Kitchen New York, NY
Posted September 15, 2012 by Celeste Davie in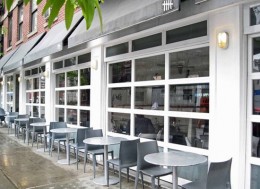 Restaurant Info
:
:
:
:
:
Our Thoughts
HK Hells Kitchen located at the corner of 39th Street and 9th Avenue is an ultra modern minimalist restaurant that serves delicious American and Mediterranean cuisine.
Heavenly Dining at HK Hells Kitchen
I was pretty excited about having my first dinner in the city that never sleeps. New York City is known for its world famous restaurants. Side note, do your homework when it comes to navigating your way around this city. Being that it was our first time in New York, it took us about an hour to find this place. It just so happens that the concierge gave us the wrong directions. HK Hells Kitchen was a few block away from Times Square and only about 15 minutes away from our hotel. We missed our reservations, but the place was pretty empty on a Thursday night so we had no problem getting a table, which is always great.
HK Hells Kitchen is a very hip and modern restaurant located on 9th Avenue. When the cab pulled up to the restaurant, we couldn't tell if we arrived at the right place.  It was dark inside and hard to decipher the restaurant name out front. The logo looks like four vertical lines with a horizontal slash though it. When entering HK you step through this sexy black curtain into a dining room that is lit with candles. I didn't expect that the evening would turn into a romantic dinner for two. To the right of the restaurant is a large bar with flat screens highlighting whatever ESPN is playing. HK has a cool ambience. The simplistic and clean décor resembles a neo-industrial coffee shop with white banquettes and tables with gleaming silver chairs. I loved the garage door style windows that lift up to open the whole left side of the restaurant.
The menu at HK Hells Kitchen offers bistro, Mediterranean, American cuisine. When I sat down and received my menu, I knew I wanted to try something different. I ordered the gnocchi prosciutto with truffle cream and fresh parmesan cheese. It was the truffles that caught my attention and it was good and creamy. I also tried the roasted herb chicken with mashed potatoes and spinach. For dessert we ordered the New York cheesecake. I only allowed myself a small bite of cheesecake; it was very rich and fabulous. Our waiter was nice and attentive. We didn't have to flag him down for drink refills and our check. I will definitely come back again. If you are ever in New York City, you should put HK Hells Kitchen on your restaurant list. I also heard that it has one of the best brunches in the NYC.
Follow HK Hells Kitchen