Espetus Churrascaria San Mateo, Ca
Posted August 21, 2012 by Celeste Davie in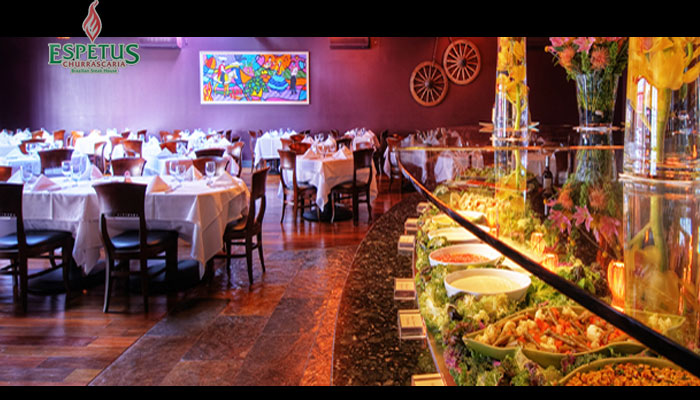 Restaurant Info
:
:
:
Our Thoughts
Espetus Churrascaria is a Brazilian steak house restaurant that provides authentic Brazilian cuisine. This unique style of dining is the Bay Area's first rodizio style restaurant and the menu is offered on a set-price basis.
Espetus Churrascaria Brings Rodizio Style To The Bay Area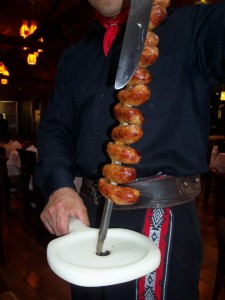 If you're looking for a restaurant that serves authentic flavors from Brazil, look no further. Espetus Churrascaria in San Mateo, Ca will absolutely delight your taste buds. The 8,000-square-foot restaurant has high ceilings, intricate light fixtures, dark hardwood floors, unique cowhide upholstered chairs, and a huge window behind the salad bar that allows patrons to watch the chefs prepare the meat.
The word espetus is a conformed version of the Brazilian word for skewer. A churrascaria is a dining venue that serves meat spiced and cooked to perfection on skewers over an open flame. After the food is slowly roasted it is immediately brought tableside on a long skewer and then the trained carvers (passadores) serve them directly onto your plate. This is a tradition that Brazilians originated in southern Brazil 80 years ago.
Brazilian food is vastly becoming my favorite cuisine. Espetus Churrascaria is the Bay Area's first rodizio style restaurant. The prix fixed menu is a bit on the pricey side, but the all-you-can-eat system is well worth it. After paying for my dinner, a hostess showed me to my table. I immediately went to the flower-ornamented salad bar at the back of the dining room.  The salad bar is stocked with different types of exotic Brazilian side dishes and salads. Some of the items to choice from include rice, feijoada, moqueca de peixe, paella, and vegetarian selections.
Waiting for me to return to my table was a basket of Brazilian breads:  pao de queijo (cheese bread), polentas sticks, fried bananas. The pao de queijo was probably the best bread I ever had. But don't fill up on the bread or your side dishes. The passadores are headed your way with the meat and seafood selection.
At Espetus Churrascaria, they prepare the meat the tradition Brazilian way. There are several different types of meats and seafood that are typically available and they include filet mignon, top sirloin steak, prime rib, roast beef, beef Parmesan, herbed pork loin, lamb chops, chicken hearts, chicken breast wrapped in bacon, house-made pork sausage, and grilled shrimp. Oh and I can't forget the delectable grilled pineapple. The fruition keeps coming as the passadores continue to visit my table. Keep the indicator on green if you want additional meats or flip it to red when you are satisfied.
You don't have to go to Brazil to sample their food. You can have a wonderful experience in authentic Brazilian cuisine at Espetus Churrascaria in San Mateo, Ca or up the peninsula at their San Francisco, Ca location. So steak lovers sharpen your knives, because this restaurant is a meat-lovers dream comes true. Eat light or not at all before you come here, because the meat galore will have you indulging in good food. If you have any room left, save some of their mouthwatering desserts. The drinks and desserts are al la carte so they are not included in the prix fixe menu. But with tasty treats like petit gateau, pudim, mouse de maracuja, and crème de papaya, you might want to give them a try.
Locations
San Francisco,Ca
1686 Market St. @ Gough
San Francisco, CA 94102
P 415-552-8792
F 415-552-8793
Hours of Operation:
Lunch: Monday through Friday: 11:30am-2:30pm
Sat & Sun: 12:00pm-3:00pm
Dinner: Monday through Thursday: 5:00pm-10:00pm
Fri-Sat: 5:00pm-11:00pm
Sunday: 3:00pm-9:00pm
Dress code: Smart casual
Private room: Yes

View Larger Map
San Mateo,Ca
710 South B Street
San Mateo, CA 94401
P 650-342-8700
F 650-342-8710
Hours of Operation:
Lunch: Monday through Friday: 11:30am-2:00pm
Sat. & Sun: 12:00pm-3:00pm
Dinner: Monday through Thursday: 5:00pm-10:00pm
Fri-Sat: 5:00pm-11:00pm
Sunday: 3:00pm-9:00pm
Dress code: Smart casual
Private room: Yes

View Larger Map