Two Steps From Hell Music Production Company
Posted May 15, 2013 by Dusty Carrier in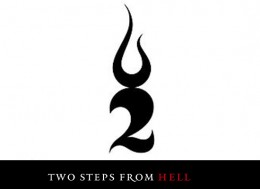 Album Info
:
:
:
:
Our Thoughts
Two Steps from Hell is a production music company founded by Nick Phoenix and Thomas J. Bergersen in 2006. The company produces music for movie trailers.
Two Steps From Hell Produces Epic Sounds
So, you've watched movies and tried to dodge fake 3D projectiles that pop out at you in the theatres during the previews. Well, have you ever wondered what music is featured in those trailers? That would be the work of Two Steps From Hell. Two Steps From Hell is one of the few examples of a project that excelled at their purpose. Two Steps From Hell is a musical project with trailers in mind. They do classical arrangements that people who enjoy any genre will enjoy. They've done music for an array of movie trailers. From Harry Potter and The Deathly Hallows to Star Trek, and even The Dark Night. Two Steps From Hell has established themselves as quite the cinematic experience, without the visuals.
With a discography that spans close to five gigabytes of pure cinematic euphoria, Two Steps From Hell has managed to make pieces that I have never heard before. Their feel is often something that you could only imagine to fit in movies and trailers, simply because of how epic and moving it feels. This sort of thing never happens in real life. You would never imagine these to be appropriate for anything in real life.
With Albums like "All Drums Go To Hell" and "Illumina" Two Steps From Hell has delivered music that could be appropriate for any movie-worthy setting. Whether you're making the next cinematic blockbuster or a CD to play for your living room while having guests, you can be quite sure that Two Steps From Hell has an album for the job. Many of their albums have a specific feeling or mood, and this it allows for great ambient listening. Compared to bands like Enigma, Two Steps From Hell is practically the classical alternative.
There is a lot you can do with Two Steps From Hell and their plethora of musical arrangements. If there is anything that could spike your creative mind, this would be it. Two Steps From Hell has brought us movie trailers, relaxing music, and creative inspiration, but it has done far from all it can. I've used Two Steps From Hell as background music during theme writings and drawings and it is quite the exhilarating thing to do.
Something else that is absolutely groundbreaking is that every track has its own unique feel. Two tracks, even if they are alternatives, will feel very different. This is something we don't see very often anymore from artists. We usually associate them with a feel and they usually abide by this. Two Steps From Hell is probably one of the only classical projects I would listen to without changing the song every 20 seconds. This is something I can appreciate, so please, take some time to visit their website, and listen to a few albums.
Author: Dusty Carrier