Poetik The Ambassador
Posted February 19, 2013 by Dante Scott in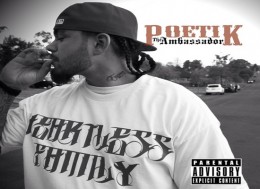 Album Info
:
:
:
:
:
Fav Tracks:
Worth More, Don't Wanna Waste Your Time, Hustle & Breathe, This & That

Our Thoughts

Australian rapper Poetik drops his mixtape The Ambassador. But is it really a mixtape?
Australian MC Poetik Delivers On The Ambassador Mixtape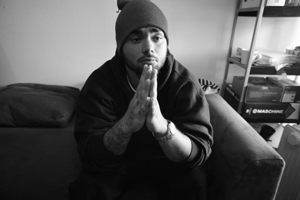 When I first received this project I was told it was a mixtape. Nope, not even close. Mixtapes, for those that do not know, consist of a rapper rapping over the beats of another artist's song. Mixtapes very rarely contain any original beats. For example a rapper takes the beat from Lil Wayne's 6 foot 7 foot, records himself rapping over it and releases it for free.  This is usually done for recognition and to keep an artist's name relevant between albums. The Ambassador is no where near being a mixtape. There are not any recycled beats and all the songs are originals. Basically this is a FREE album and a damn good one at that!
Not that it hasn't been done before but why would an artist give away his album for free? Well to put it in Poetik's own words "I just want to be heard." What better way for listeners to hear your album then to give it away for free? Poetik reinforces this concept on the track "For Love Not Money". On "For Love Not Money", the first song on The Ambassador album, Poetik confesses his love for his craft. Guest Storme's and Poetik's vocals sit nicely on top of the Manny "Ironmanny" Sauni produced beat. Phili and Mr Tanoa split time on the mic with Poetik on "Worth More". This one is guaranteed to have your head bobbin. No over produced, extra slick track for this one. Ironmanny lays down a simple yet addictive beat for the MC's to ride on.
While The Ambassador has several exceptional guest appearances Poetik shines best by himself. When given a chance to hold up a track by himself Poetik does not disappoint. Poetik seems to put more emotion into these solo songs. On the autobiographical "Hustle & Breathe" he gives listeners a quick view of his life and his endless dedication to continue to always hustle and breathe. "The Come Up" details the ups and downs of his career as a MC.
He pays tribute to the women of the Polynesian culture with the aptly titled "Polynesian girls". I would expect no less from a proud Samoan. Poetik turns his attention to the women with "Don't Wanna Waste Your Time". This maybe the only song that the beat outshines the MC. Ironmanny delivers a infectious groove that is sure to get you dancing. Make no mistake Poetik is no slouch on this one. Poetik's lyrical dexterity is never more evident.
Overall this is a well put together project. The Ambassador delivers on all levels, lyrically and production. The combination of Manny "Ironmanny" Sauni on the beats and Poetik on the mic is pure magic. These guys are definitely helping to set the bar for Australian hip hop. Listeners will not be disappointed. Besides what do you have to lose? The Ambassador is FREE!
Download The Ambassador HERE.