Logic – Maryland Rapper Goes All In
Posted May 11, 2013 by Dante Scott in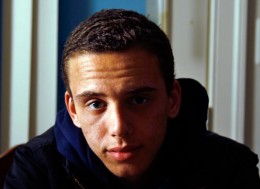 Album Info
:
:
:
:
:
:
Our Thoughts
Maryland emcee Logic built his fan base through numerous mix tapes and touring. Now signed to a major label Logic is prepared to tell the world his story.
Logic Tells It Like He Knows
The emcee Logic was born and raised in Gaithersburg, Maryland, not exactly the epicenter of hip hop. At the age of 16 his mentor Solomon Taylor brought him a bunch of beat CD's to write rhymes to. Originally going by the moniker Psychological he released the mixtape Psychological: The Mixtape. Later he shortened his name to Logic, the science of reasoning, to coincide with his growth as a emcee.
In 2010 Logic released his first official mixtape, Young, Broke, and Infamous. This caught the attention of Chris Zarou CEO of the independent record label Visionary Music Group. The following year Logic released his second mixtape Young Sinatra. Young Sinatra garnered attention from industry magazines XXL and Billboard and began to build Logic's growing fan base. He quickly followed Young Sinatra with his third mixtape Young Sinatra: Undeniable. On Young Sinatra: Undeniable Logic shows his growth as an artist. Digging deep into his personal life to bring to life tracks about his troubled past of being a high school dropout and his parents addictions. The buzz from Young Sinatra: Undeniable was big enough for Logic to embark on his first tour that summer. In early 2013 Logic was featured on XXL cover as part of the "Top 10 Freshmen List". He followed that up with his 4th mixtape Young Sinatra: Welcome to Forever. Young Sinatra: Welcome to Forever  was downloaded over 100,000 times on Datpiff.com in a 24 hour period. On April 15, 2013 Logic signed with Def Jam Recordings.
Logic is no doubt influenced by hip hop from The Golden Era of Hip Hop (90's). On his mixtape he chooses to always include a beat from this era to flow over. He always does the track justice with his attention to lyrics while riding these classic tracks. Listening to Logic will definitely invoke memories of hip hop' Golden Era. Instead of employing escapism in his music, Logic writes his lyrics based on his personal experience, some of which are not all sunshine and smiley faces. He tells of his experience being bi-racial. His mother calling him a nigger and Black people calling him a cracker. He discusses being a high school drop out but tells kids not to follow in his footsteps and to finish high school. He tells tales of love and lost loves. He talks about always following your dreams. Of course he speaks of his love for doing his music and that is all he seems to want to do.
One word seems to come to mind when describing Logic: AUTHENTIC. Logic doesn't sell his listeners stories of all the cars he owns, all the money he has, or all the women he sleeps with.  He keeps it simple and talks about what he has lived.  If that isn't the essence of being a emcee than what is?
Young Sinatra III Video
Logic Mixtapes