Alexander O'Neal – Alexander O'Neal
Posted May 23, 2013 by Daniel Barker in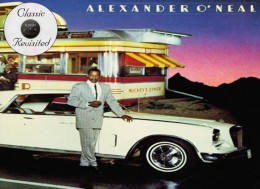 Album Info
:
:
:
:
:
Fav Tracks:
If You Were Here Tonight, You Were Meant To Be My Lady, What's Missing

Our Thoughts

Alexander O'Neal erupted onto the music scene after Tabu seized Warner Brothers missed opportunity. This album launched Alex's career and to this day he is regarded as one of the most underrated singers in history.
Alexander O'Neal's Debut Album Is Music As It Should Be
Alexander O'Neal was born in Mississippi before moving to Minnesota at the age of 20. After making the move Alex immediately caught the attention of Prince, who had signed with Warner Brothers. Prince made plans for Alex to become the lead singer in a pet project called The Time. Warner Brothers however dismissed Prince's choice in using Alexander O'Neal as the lead singer because he was supposedly "too black". It's no secret that during the 80's music producers were pushing black musicians to capture the white demographic. Black singers with white relations were viewed as having better marketability.
This injustice didn't slow Alexander O'Neal down. Knowing Prince had personally chosen him gave Alex a massive boost in confidence. After signing with Tabu records Alex began working on a debut album featuring the work of some very influential personalities. The names Jimmy Jam & Terry Lewis are legendary in the music business. To have them incorporate their work into a debut album marks the artist as a highly promising commodity.
The self entitled debut album Alexander O'Neal is a rich audible experience that touches on the topic of love that holds no prejudice on the person's perspective. Whether you're in love or broken up, this album will provide you with warm soothing sensations directly to your heart.
"A Broken Heart Can Mend", the opening track off Alexander O'Neal, offers a great taste on what to expect. This song delivers influential impact on a difficult topic and navigates your thoughts towards a positive outlook. Alex makes excellent use in vocalizing confliction. When you think back to an old relationship it's almost as if the pain is being taken away. This is truly good for your soul.
"If You Were Here Tonight" an all time classic romantic melody that utters a balance of both love and lust. The lyrics speak sincerity as Alex sings conviction through a varied range of pitches. This love song fluctuates in vocal intensity that progresses, almost as if the further the song plays the more the feeling of love burns inside. Alex exceeds immensely in dowsing his vocals with passion, which makes you believe he's actually singing his heart out.
"You Were Meant To Be My Lady" comments regarding this track will appear contractively peculiar. Based on personal opinion and views from the fans this track is way ahead of its time. Alex talks about a love interest from long ago that he could not get to love him in the past. He sings the rationalization that time has purposely allowed them to be together in the present. The song is simple in nature. The reason people claim it to be ahead of itself is due to the layout. The beginning of "You Were Meant To Be My Lady" feels standard, once the second chorus has finished the song elevates into a flux of emotionally charged and diverse harmonious vocals. Alex completely expands on his use of harmony. His strong powerful voice is used at its peak. The sound of him hitting the higher notes really does provide listeners with goosebumps along with a shiver down the spine.
Alexander O'Neal only incorporate seven songs, however each singles boasts substance that will instantly win you over with its charm. Music here is as it should be. Providing you with memories, food for the soul and making you feel human again.  Alexander O'Neal is a must have album for any music lovers collection