DJ Ace Basel, Switzerland
Posted September 24, 2012 by Dante Scott in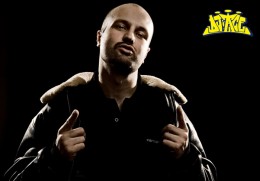 DJ Facts
:
:
:
:
Skillz:
3X DMC Championship between 1996 and 1998, Tour DJ for M.O.P., recorded a mixtape with DJ Tony Touch "Don?t Touch the ACE", produced Kelly Rowland's mix-tape, hosted his own radio show "the DJ ACE Show" in France

Our Thoughts

Switzerland's DJ Ace is a turntablist, producer, tour DJ and radio show host. DJ Ace has also embraced the business side of DJing and expanded his brand to a world wide level.
DJ Ace – Tour DJ, Radio Show Host, Mix-Tape Producer and Business Man
DJ Ace, out of Basel, Switzerland, has approached DJing from every possible angle. He has captured DMC championships 3 times, started a promotion company, founded his own record label, produced mixtapes and records, been a tour DJ, forged business relationships with Nike, Carhartt, Red Bull, Rane and Ortofon, His relationship with paint manufacturer Montana, popular among graffiti artist, lead to the creation of his own color "The Blue Ace".  In between all that DJ Ace still finds time to DJ gigs.
Since getting his start in 1986 DJ Ace has devoted his time and energy into the culture of DJing. After multiple DMC wins he began to spin at clubs and venues all over Switzerland and internatinally. His international work led to several major projects. "The DJ Ace Show" aired in France garnered 28,000 listeners daily. He teamed up with Tone Touch to record the mix-tape "Don't Touch The ACE". His stellar work on Kelly Rowland's mix-tape caught the attention of Brownville's own M.O.P.. Billy Danze and Lil Fame were so impressed with it that they asked DJ Ace to be their official tour DJ. He has even flown to the Mecca of Hip Hop, New York to work on the radio show "New York Style" in 2005.
Showing no signs of slowing DJ Ace is constantly creating more opportunities for himself and his businesses. While he might be considered ole school, DJ Ace is definitely a new age businessman.
I see that you started spinning in 1986. Hip hop was very young back then. How did a kid over in Switzerland get exposed to DJing? Who were some of the DJ's you seen that made you want to DJ?
I was 11 at that time and Hip Hop was really just "Electro Rock" (an amazing video documentary about a Hip Hop event in London), Beastie Boys, Public Enemy, Fat Boys and Run DMC records – that is what it was all about in Hip Hop when I first got in touch with it! But I only got involved in the culture after a couple of months as a DJ. There was this mega-mix vinyl series from a Spanish DJ Team called "Max Mix". It included tons of different songs within a short time and this fact was freezing my mind somehow. One of the issues, I think it was "Max Mix Volume 2" that made me go for it! There was no media like cell phone, internet, etc. there was only listening to audio on vinyl. I had no DJ to look up to at that time.
5 years after you started DJing you were competing in the DMC. How many hours a day did you practice to prepare for that?
Yes ,a long time after the kick off, isn't it!?! No youtube, no dvd`s and no way to get good quality VHS`s. 😀 All these stretched the time of evolution to becoming a "good" DJ . Coming from a poor family I had to practice scratching on one turntable which was borrowed from a friend. I scratched over beats that I had to loop on tape.  I practiced for hours and hours. It was real fun scratching 8, 9 hours a day. I even used the pseudonym "Scratchophonic Maniac A.C.E." because I could not let go of my turntables: 🙂
After my DMC participation I started touring with some rap crews through the whole country and gained a lot of experience and popularity.
You do a lot of projects. What are you working on right now that fans should look out for?
I don`t like the expression "fans". I would rather say supporters, who I would like to invite to follow my weekly mix-shows on www.soundcloud.com/kingdjace. B-Boys out there can expect a great video clip coming out soon. Right now my main focus is on a chill out/lounge album.
What was your most memorable gig?
There are a few but I would say it was my competition at The DMC World Championships in Paris and touring with M.O.P.
The DMC has grown and changed since you competed. Do you still watch the DMC? Digital equipment has made its way into the DMC, is that a good or bad thing?
Competition is always a good way to grow in any branch, therefore DMC is a great institution. Since I stopped being the crazy "Scratchophic Maniac" I stopped following DMC. There is way too much input and no time for all of it. I think it`s okay to update requirements for the competitions. Of course it`s necessary to have the right point system and different categories. A lot of "real DJ`s" hated it when Final Scratch came out and dissed all the DJ`s who were using digital DJing technology, that's stupid. You still have to be a good DJ to make the people go crazy and using Serato as a tool just helps and even boosts your creativity. You just have to use the new possibilities and who knows maybe an Einstein comes out of you one day. This is what I think of new, changing technologies- it's not just for turntablists only, this is for all DJ`s and producers.
What are the 5 records you always take to a gig?
1. Chaka Demus & The Pliers "Murder She Wrote"
2. Michael Jackson "Wanna Be Starting Something"
3. Nina Sky "Move Your Body"
4. Mark Ronson "Ooh Wee"
5. 2Pac & Dr. Dre  "California Love"
6. The "Aaaah" scratch effect (originally by Fab 5 Freddys "Change The Beat")
What would be your dream gig?
That`s easy, playing in front of thousands of people and DJ ACE is main-act!