New Era EK Collection Fall/Winter 2012
Posted September 5, 2012 by Dante Scott in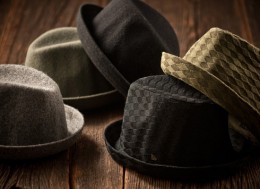 Overview
:
Our Thoughts
Not just a snap-back and fitted cap maker New Era announces it's Fall/Winter lineup of its EK Collection. Fedoras, gatsbys and duckbills never looked so good.
Did you think they just made snap-backs and fitted caps? Introduced in the 1920's The New Era Cap Company originally produced fedoras and duckbills. When interest slowed they turned to making baseball caps. With a return to interest in fedoras New Era created The EK Collection as a tribute to New Era Cap Company founder, Ehrhardt Koch.
The 2012 Fall/Winter collection from New Era has the perfect style for casual or dress. So if a fitted cap is not appropriate you can grab a cap from the EK Collection. Take a look at the gallery below for a preview.