Maisha Bahati Clothing Line
Posted August 28, 2012 by Celeste Davie in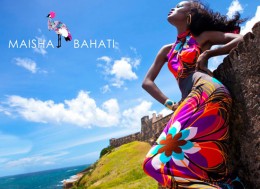 Overview
:
Our Thoughts
Maisha Bahati is an up and coming fashion designer who specializes in women's ready-to-wear clothing. Her dresses and jumpsuits are classy, funky, and very sexy. She has designed clothes for celebrities and boutiques.
Maisha Bahati Keeps It Classy, Funky, and Sexy
Fashion designs are influenced by our constantly changing culture. Designers are always trying to stay current with the latest trends, while implementing their own style. When it comes to designing clothes that flatters a woman's silhouette, contemporary designer Maisha Bahati gets it. Not only is she designing fabulous designs for women, but she is also thinking about the environment by using eco-friendly materials. This movement aims to blend high fashion with contemporary green marketing by advocating for global human rights and environmental concerns.
The Sacramento native has been making clothes since 2003. The self taught designer started her clothing line, Maisha Bahati, in 2012. Her clothing line appeals to those women who are aware of their body shape. The Eco-Chic designs are sexy, classy, flirty, sophisticated, and funky. Maisha Bahati's designs are made of bamboo and jersey-knit fabrics. She chooses this fabric because it drapes a females shape so effortlessly.
In 2011, Maisha Bahati designs rip the runway in the Sacramento Fashion Week. The models strutted down the runway wearing phenomenal clothes with colors that were stunning, bright, and almost surreal. Maisha Bahati has created designs for celebrities, boutiques, and bridal events. I had the pleasure of interviewing Maisha Bahati for a little pursuit into her fashionista world.
CD: When did you realize you wanted to become a fashion designer?
MB: I always enjoyed fashion, but it was probably in my early 20's that I realized fashion was something I wanted to dabble in.
CD: Where do you get your inspiration?
MB: I get my inspiration from everything; music, feelings, photos. Fashion to me is about how you want feel at that exact moment.
CD: What does fashion mean to you?
MB: Fashion to me means the freedom the express yourself with your mouth closed.
CD: What do you like best about designing clothes?
MB: What I enjoy most about designing clothes is the freedom the create whatever is I want.
CD: What are your favorite fabrics to work with and why?
MB:  I enjoy working with stretch knit fabrics, I love the comfort, the drape of the fabric, and how it fits the body.
CD: How would you define the style your clothing line exemplifies?
MB: I define my style as sexy contemporary chic with a vintage flare.
CD: How would you define your personal style?
MB: My personal style is similar to my brand. I like different, bold, sexy, and a simple look.
CD: What's your favorite part about conceptualizing a design?
MB: The entire process is my favorite, from sketching on the initial design, to seeing it come to life.
CD: How do you prepare for a photo shoot or fashion show?
MB: It's a lot of prep for a show and photo shoot. I just try to be as organized as possible and I use many assistants to help me with the process. I couldn't do it all by myself.
CD: What are some of your accomplishments as a designer?
MB: My accomplishments are magazine write ups, designing for celebrities, working with amazing photographers, having my clothes in boutiques and runway shows.
CD: Who are some of your favorite designers?
NB: My favorite designers are Aqua by Aqua, Rachel Pally, Alexander Wang, Gucci, and Stella McCartney.
CD: How do you select your models?
MB: I select models based on the appearances, walk, energy, and personality.
CD: What are some of your fashion goals?
MB: I have so many goals, but one of my biggest is to be in at least 50 stores and/or boutiques within the next 3 years.
CD: What advice do you have for aspiring fashion designers?
MB: My advice would be to believe in your product, work hard, listen, ask questions and hustle!
Keep Up With Maisha Bahati
Maisha Bahati website www.maishabahati.com


Did you enjoy this article? If so, we'd love to hear your thoughts in the comments below. It would be great if you subscribed to our RSS feed or signed up for email updates to get more goodness. There's lots more where this came from!