2Twenty5 Clothing Store San Jose, Ca
Posted June 5, 2013 by Dante Scott in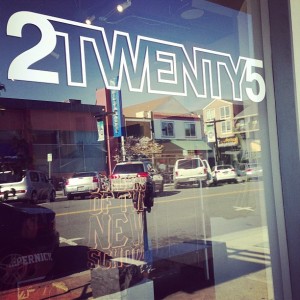 2Twenty5
225 Jackson Street
San Jose, California 95112
Hours
Tue – Sat: 11:00 am – 7:00 pm
Sun: 12:00 pm – 5:00 pm
Located in San Jose, Ca's Japantown 2Twenty5 is a chic clothing store that features local clothing lines. Not just another clothing store 2Twenty5 doubles as a art gallery featuring exceptional pieces of art on its walls. Art shows are often hosted at 2Twenty5 and are a melting pot of art, culture and music.
Mighty Fresh and Seize Defend Rule are the primary designs displayed inside 2Twenty5. Both were created by store co-owner Julius Bercasio.
While 2Twenty5 is the flagship store for Mighty Fresh and Seize Defend Rule they also carry several up and coming apparel companies including Defend Da Bay, Higher Culture, Pride & Heritage and Anmly Clothing.
Defend Da Bay is a local clothing company…literally. Defend Da Bay was created to show love and pride for residents of the San Francisco Bay Area. You can find Bay Area residents of all walks of life sporting their Defend Da Bay gear that features color schemes of local professional sports teams and colleges.
The Higher Culture created by a college student around the idea that higher education is a integral part of Higher Culture.
Anmly Clothing – On the Anmly Clothing web site it reads – "The term anomaly can be defined as something that deviates from what is standard, normal, or expected. We at Anomalie Apparel celebrate diversity by creating fun, thought-provoking streetwear that represents all types of consumers globally." NUFF SAID.
Inside 2Twenty5