Larchmont Bungalow Los Angeles Ca
Posted July 7, 2012 by Celeste Davie in
Restaurant Info
:
:
:
Our Thoughts
Larchmont Bungalow is a cozy restaurant that specializes in breakfast all-day, lunch, dinner, and desserts. The eco-friendly cafe also sells specially crafted teas and coffees. The food is made with fresh, quality ingredients.
Larchmont Bungalow – Artisan Cafe Bakery & Brew
This charming café is nestled in the upscale Larchmont area of Los Angeles. The facade mimics something that Vincent Van Gogh would have wanted to paint. Like European cafés, there are tables that line the pavement outdoors. As soon as you step foot into Larchmont Bungalow, you are pleasantly bombarded with the smell of coffee roasting in the background. The ambiance has an old-time feel, with an old stove top and back-in-the-day décor. The bookcases are filled with knick knacks, salts, spices, coffees, and crafts. There is a cozy sofa and fireplace that gives you a home-like ambiance and comfortable dining experience.
Larchmont Bungalow is a hidden treasure that features goodies from their bakery and organic cuisine that is locally sourced. If you are looking for a sugar fix, then this is your place. You will think you are in heaven with their wide selection of desserts that line the pastry cabinet. Don't bother counting calories!
This quaint restaurant is perfect for brunch and the staff is incredibly friendly. When you come in, grab a menu then order at the counter and they will give you a number to take back to your table. We sat outside on the patio and didn't have to wait a very long time for our food, it came out fairly quickly.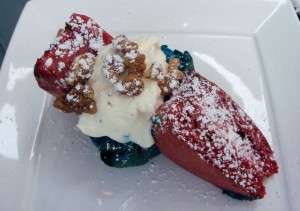 Larchmont Bungalow is known for their Red and Blue velvet Pancakes. One of Los Angeles favorite indulgence and the main reason we came here.  We shared a half order that consisted of three slices of cake like portions. The presentation was semblance of a five star upscale restaurant. The Red and Blue Velvet Pancakes were draped with cream cheese spread and homemade whipped cream. Topped with candied walnuts and served with a side of warm natural maple syrup. The Blue Velvet pancakes seemed slightly sweeter then the Red Velvet pancakes.  The pancakes were flavorful with ample cocoa tones. You actually didn't need the syrup. I liked how the outside was a bit crunchy.
I also ordered the Mini Omelet Sliders which allowed you to select any two signature omelets. I ordered the seafood omelet and the popular fajita omelet. Both were really good. The Seafood Lover's Omelet had lobster, shrimp, fresh blue crab, and spinach topped with a truffle hollandaise inside. It could have used a bit more seasoning. The Fajita Omelet had fajita seasoned chicken, roasted peppers, caramelized onions, and black beans inside, topped with crème fraîche, salsa, and shredded tortillas. All omelets are served with the choice of toast and either fresh fruit or breakfast potatoes.
Larchmont Bungalow is open for breakfast, lunch, and dinner. Arrive early to avoid a long wait. I heard it gets pretty crowded at lunch time. Also, consider yourself lucky if you find a metered parking spot. Nonetheless, I absolutely adore this place. Larchmont Bungalow is a super cute restaurant that's located in a pretty trendy hipster area. I love the location. On the weekends they sometimes have a farmers market. It's a must try just for the ambiance alone. Bon appetite!
Author: Celeste Davie
Editor: Rande Ross
Address
Larchmont Bungalow
107 N Larchmont Blvd
Los Angeles, Ca 90004
Hours of Operation
Sunday – Saturday:  7:30am – 9pm