La Cote Brasserie New Orleans, La
Posted July 30, 2012 by Celeste Davie in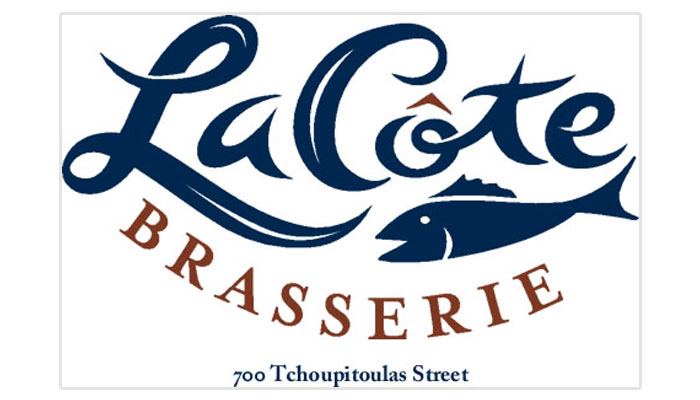 Restaurant Info
:
:
:
Our Thoughts
La Cote Brasserie is located in the Warehouse District in New Orleans, Louisiana. It serves up traditional and eccentric Cajun cuisine. This restaurant is nestled in the whimsical Renaissance New Orleans Arts Hotel.
Sampling Cajun Cuisine at La Cote Brasserie
Situated in the heart of the Arts District, this urbane modern brasserie restaurant was once the site to Hurwitz-Mintz Furniture Company. The Union Warehouse was built in 1910, and now it is home to the trendy Renaissance Arts Hotel. La Côte Brasserie is located inside the hotel. The decor has an upscale downtown business chic style. The huge glass block wall separates the lobby from the restaurant. Beautiful views of the warehouse district are seen through the glass walls that line the restaurant. A 50-foot serpentine counter begins with a 20-seat bar, continues as a 10-seat communal dining table and ends at the 10 seat full-service seafood raw bar. Patron can get a behind-the-scenes view of activates that are going on in the stainless steel kitchen.
Since I was staying at this gorgeous artsy hotel, I decided to have dinner here and endeavor something that I have never tasted before. If you are ever in New Orleans (Nawlins is what I call it) you have to try the Cajun cuisine. Authentic Cajun food is usually a three-pot affair that normally consists of a meat, a grain, and vegetables.
La Côte Brasserie's menu is complemented with French influences. I decided to order the Alligator Croquettes and the Louisiana Crab Cake for an appetizer. The sweet heat glazed, tempura battered Alligator Croquettes were actually good. And yes alligator does taste like chicken. The Louisiana Crab Cakes made with smoked corn maque choux and the chefs hot sauce, were amazingly great. For my entrée I ordered the Duck & Andouille Gumbo, which is a recipe from the Chef's grandmother. I never had duck in my gumbo and I think next time I will stick to the traditional Louisiana gumbo. It wasn't bad it was just a little too different.
Other items on the menu include the Cedar Smoked Barbeque Shrimp with Goat Cheese Stone Ground Hominy Grits and Char Grilled Lobster on the Half Shell with Lobster Beignets. The Chef also offers a "Chef's Tasting Menu" nightly which includes six specialty courses. When you are trying Cajun cuisine, open your palate to something different. You never know what you will enjoy.
Location/Hours of Operation
La Côte Brasserie
700 Tchoupitoulas Street
New Orleans, LA 70130
Reservations 504.613.2350
Fax 504.613.2364
Hours -Open 7 Days a week – Complimentary Valet
Breakfast
6:30 – 11:00 am
Lunch
11:30 – 2:30 pm
Dinner
Sunday – Thursday 6-10 pm
Friday & Saturday 6-11 pm
Sunday Brunch
11:30 – 2:30 pm