Beso Restaurant Hollywood, Ca
Posted June 26, 2012 by Celeste Davie in
Restaurant Info
:
:
:
Our Thoughts
Beso is owned by actress Eva Longoria. This trendy restaurant is the known hot spot for all the Hollywood celebrities. Celebrity Chef Todd English delivers contemporary Latin cuisine with eclectic dishes from around the globe.
Beso Restaurant Latin Steakhouse Cuisine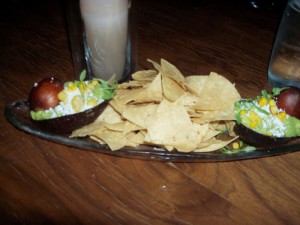 Beso Restaurant is a magnificently sexy restaurant. As you step foot through the large imposing wooden doors, you know you have arrived in Hollywood. Beso is located on the corner of Hollywood Boulevard and Ivar Avenue. Parking is horrible in this city so take advantage of the convenient valet service for a prepaid $10. Beso caters to famous celebrities and patrons who admire Latin cuisine. Actress Eva Longoria and Celebrity Chef Todd English deliver a contemporary Latin menu with eclectic dishes from around the globe.
This star-studded décor is fabulous! The 150-seat dinning room has dramatic crystal chandeliers and candlelit tables with comfortable black leather overstuffed chairs.  Beige crocodile wrap-around booths line the walls and upstairs seating overlooks the large dinning room. The open kitchen hosts a wood-burning oven that fills the air with delightful savory scents and their ceviche bar displays fresh fish. Although it's a gorgeous restaurant, it is a tidbit dark inside.
I started my meal off with one of their signature appetizers. I ordered the Beso Guacamole that was topped with corn and cheese and served in an avocado shell with crispy tortilla chips. It was good, however it did lack some real Mexican spices. After the appetizer we received our complimentary flat bread with a Roasted Red Pepper Spread. This was one of the highlights of the night because it was insanely delicious.  I could have eaten the flat bread all night, it was that good! For my entrée, I ordered the Beso Paella with saffron rice, lobster, roasted chicken, shellfish, and chorizo. I have tasted paella before, but Beso Paella had a wow factor and the presentation was resplendent. It was definitely the best paella I had so far and when I go back to Beso, I will order it again. The waitress was very friendly and checked on us throughout the night. The cuisine at Beso is on the very pricey side. I think you are paying more for the ambiance and the famous name behind the restaurant. With that being said, it is worth coming here and trying the food. A fantastic place for a romantic dinner.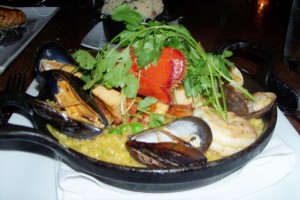 If you're not interested in dinning at Beso Restaurant and you just looking for a place to meet beautiful people, well look no further. This restaurant transforms into a nightclub. In Spanish beso means kiss, so it was only fitting to name the nightclub Kiss. It gets packed with hordes of twenty-something looking to meet up. Whether you are searching for a place to have a romantic dinner or nightclub to party in, Beso is a definite must try experience. Plus you never know who you will meet.
Dinner
Monday- Thursday
6:00pm-9:30pm
Friday – Saturday
6:00pm-10:30pm
Bar
Monday-Thursday
6:00pm-Midnight
Friday – Saturday
6:00pm-2:00am
Beso is closed Sundays
For Reservations Please Call
(323)467-7991
 Connect With Beso Restaurant