1300 on Fillmore San Francisco, Ca
Posted July 24, 2012 by Celeste Davie in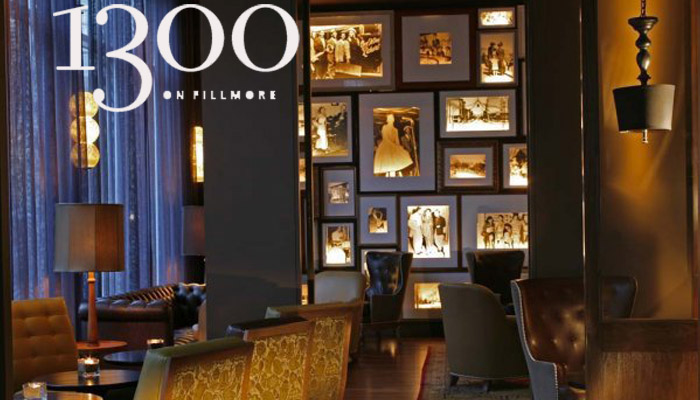 Restaurant Info
:
:
:
Our Thoughts
1300 on Fillmore is southern style cuisine with an uptown jazz swing. The cuisine is refined New American cooking: with French techniques and Southern accents. It's located in an area once know as Harlem of the West.
Comfort, Style and Cuisine – 1300 on Fillmore
1300 on Fillmore atmosphere is real elegant and cool.  The swanky restaurant is located in San Francisco's emerging Fillmore Jazz District, once know as "Harlem of the West." Fillmore was the epicenter for jazz and attracted famous performers such as Louis Armstrong, Sammy Davis Jr., Ella Fitzgerald, John Handy, and Billie Holiday. As you walk through the entry, you step back into an epoch that you have only read about or seen on television. 1300 on Fillmore pays homage to more than a century of the lavish and exciting past in the Fillmore District. Lights beautifully illuminate mural-like photographs that hang on their prodigious "Heritage Wall." This visual creation celebrates a vibrant neighborhood from the late 1800s to the peak of the jazz scene in the 1950s.
The club-styled lounge area looks more like a living room filled with leather Chesterfield couches, wing chairs, and Persian rugs. On some nights 1300 on Fillmore has a live jazz band in the lounge area. At the bar, there is a screen with more photos of past appearance by Little Richard and Ike and Tina Turner. When you visit 1300 on Fillmore, you might be dinning amongst a few known people. Former San Francisco Mayor Willie Brown is a regular and has been awarded a plaque at the bar. Also, Chris Weber, Teraji Henson, Nas, and Quincy Jones are just a few famous people who have graced this restaurant with their presence.
The cuisine at 1300 on Fillmore is an amalgam of the diverse background and experience of owner and Executive Chef David Lawrence. The distinctive food is a mesh of his British upbringing and Jamaican ancestry followed by his French culinary education. I love sophisticated Southern comfort food. I ate dinner in the relaxed lounge area with oversized windows that overlooked the streets. The service was excellent and I enjoyed listening to live jazz band.
Since it was late and the kitchen was getting ready to close, I ordered from their soulful American bar menu. I ordered the Lamb Sliders made with a tomato marmalade and ricotta salata cheese. I also ordered their fat fries with house-made ketchup.  The lamb sliders tasted really good. However, mixing tomato marmalade and ricotta salata cheese was a usually combination. 1300 on Fillmore offers other tasty items on the bar menu and a wine list dominated by California wines. I really loved the ambiance and the live jazz band took you back to the music reminiscent of the old Fillmore. Chef David Lawrence has created a sexy and upscale restaurant. If you happen to come on a Sunday for brunch, you will enjoy a great breakfast along with soulful gospel music.
1300 on Fillmore
1300 Fillmore Street
San Francisco, CA 94115
Hours of Operation
Monday – Thursday 5:30pm-10:00pm
Friday – Saturday 5:30pm-11:00pm
Sunday 5:30pm-10:00pm
Gospel Sunday Brunch 10:30pm -2:30pm