Tracy Cruz Universoul Symphony
Posted May 12, 2012 by Dante Scott in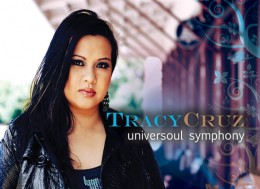 Album Info
:
:
:
:
:
Fav Tracks:
Let's Go Back, Electricity, Happy, Rise Above,

Our Thoughts

Tracy Cruz's sophomore album Universoul Symphony
Tracy Cruz
Universoul Symphony
If you are familiar with Tracy Cruz's 2008 release Feel'osophy then you might think that her latest project Universoul Symphony is another laid back groove packed album.  Nope. Far from it. Cruz decides to experiment with different sounds and styles this go round. Tracy Cruz fans need not fret, as she hasn't completely abandoned her ultra mellow grooves. What she has done is craft an album infused with various  styles and tempos.
Let's Go Back is an infectious groove, with Tracy's vocals gliding over the beat effortlessly. Cruz sings about going back to the day she fell in love with her significant other. It only seems appropriate her husband Allen Ross drops in and expresses his point of view of that day with a few lyrical tidbits.
On the electro funky jam Electricity Tracy exercises her vocal dexterity. She takes control of this track right from the beginning, letting listeners know she can flex her vocal muscles. Electricity is a perfect example of Tracy expanding her sound. Dream Flight is an up-tempo jam filled with Tracy's signature positive lyrics.  Once again she is just as comfortable on the upbeat track as she is on her more laid back tracks.
Rise Above featuring Yvette Pylant and rapper Signatural is reminiscent of early 70's soul music. Conscious lyrics backed by a heavy bass line take me back to a time when music was substance over style.  Happy is a song that could have fit perfectly on Tracy's previous release Feel'osophy.  On Happy her vocals are backed by a funky track that will have you two steppin as Cruz sings about her multitude of blessing.
Tracy Cruz is obviously comfortable with where she is going as an artist. In an era of copy cat artist Tracy Cruz has developed and evolved her own distinct sound on Universoul Symphony. After giving it a listen you will agree Universoul Symphony is an uplifting celebration of life.
Author: Dante Scott
Editor: Rande Ross

Follow Tracy Cruz