Spotify – A New Way To Listen To Music
Posted February 27, 2012 by Dante Scott in
Launched in October 2008 by Swedish company Spotify AB, Spotify is digital music subscription service boasting a catalog of over 15 millions songs. Originally only available to users in select European countries, Spotify became available to US users on  14 July 2011 after lengthy negotiations with the four major record companies.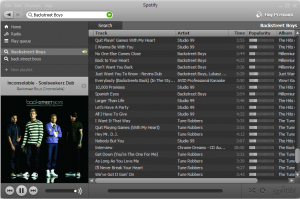 After downloading the desktop client users can begin searching for music by artists, albums, titles, labels and genres. Anybody who has used Itunes will notice a very similar layout.Upon launching it will search your computer for music. It will list music from the Spotify catalog and songs from your PC bringing results to one area. Playlist can be created by dragging and dropping to the left sidebar which list your devices, library , your Itunes library and your playlist. The right tool bar contains a list of all your friends on Facebook who are users. Songs can be dragged and dropped on to your friends list to send them a suggestion. This friends list can be toggled on and off.  All music in the catalog is available for purchase.
The word "subscription" is a dead give away that this service will cost users a fee. The service allows for users to sign up for Free, Unlimited and Premium. Spotify Free allows users to listen to unlimited commercial add filled music for up to 6 months and then a 10 hour per month limit is place on their account. Spotify Unlimited at $4.99 per month removes the commercials and the hour limit. Spotify Premium at $9.99 is also commercial free and unlimited hours plus it adds mobile capabilities and offline mode for playlist.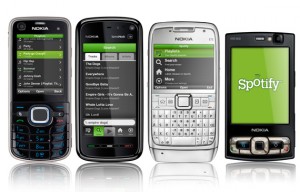 While none of this is groundbreaking it does allow for users to listen to music without having to upload music to a "cloud service". Combine this with mobile apps that are up to par, Spotify is a nice way to listen to and buy music.
Spotify.com
Author: Dante Scott
Editor: Rande Ross