Shav and Mentos The Circus Room
Posted October 16, 2012 by Dante Scott in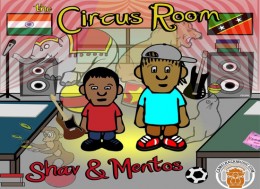 Album Info
:
:
:
:
:
Our Thoughts
Shav and Mentos's EP The Circus Room is a 5 song chill hip-pop project. Shave and Mentos mix live instruments with smooth vocals and superb lyrical rap.
The Circus Room – Live Instruments, Smooth Vocals and Lyrical Rap
When I Googled Shav and Mentos (Keshav Garg and Aaron Mentos respectively) I couldn't find much on these new artist. Here is why. The word "new" is to be taken literally in this instance. Word is these two met in 2010/2011. Here is the story: Shav and Mentos met as roommates at Colgate University in New York. During their initial meeting the duo discovered that both played multiple instruments and both were vocalist.  Right then is when the production of The Circus Room began. The first single, Carelessly was written that night. The eclectic duo handle all the song writing, playing of instruments, production and mastering of the music for The Circus Room.
This 5 song EP is a chill hip-pop project that you would expect to hear at any college spring break party. On the aforementioned Carelessly Mentos's rapping and Shav singing the hook accompanied by an acoustic guitar, create a catchy tune. The only song on The Circus Room that isn't a Shav and Mentos original is West Coast, a cover of the Coconut Records song.  Calling it a remake might be a better description of the duo's version. They definitely manage to make the song their own by infusing Mentos rapping into the mix. On 1970 they get a little help from Billy Krebsbach on live trumpet and Mentos's father on the steel drum. If any track exemplifies Mentos lyrical dexterity it without a question is Doubt and Desire. Mentos raps about his desire to succeed despite any setbacks he may encounter. To drive his point home even further a sound bite from hip hop legend Tupac Shakur is included on this track. Shav takes the lead on Set You Free. His smooth vocals accompanied by a guitar riff on this track make Set You Free another indication of Shav and Mentos ability to create loveable, well crafted tracks.
On The Circus Room EP, Shav and Mentos have managed to fuse live instruments, hip hop, smooth vocals and excellent lyrical flow to create a surprisingly good preview of their talents. This is a solid release by this college duo. If they continue at this level college may soon become an afterthought for this twosome.
FREE DOWNLOAD: THE CIRCUS ROOM
Listen To The Circus Room