Robert Glasper Experiment Black Radio
Posted April 4, 2012 by Dante Scott in
Album Info
:
:
:
:
:
Fav Tracks:
Cherish The Day, Afro Blue, Ah Yeah, Why Do We Try

Our Thoughts

Pianist Robert Glasper's third album for Blue Note mixes hip hop, r&b, soul, jazz .
An Experiment In Good Music
Robert Glasper Experiment
BLACK RADIO

What if you could call up some of your friends and make an album? Robert Glasper did. It just so happens his friends are Erykah Badu, Bilal, Lupe Fiasco, Lalah Hathaway, Shafiq Husayn (Sa-Ra), KING, Ledisi, Chrisette Michele, Musiq Soulchild, Meshell Ndegeocello, Stokley Williams (Mint Condition) and yasiin bey(Mos Def). Not a bad group of friends to have on speed dial. What they have created is an amalgam of R&B, soul, hip hop set against a background of jazz.
Robert Glasper Experiment features Glasper on piano and Fender Rhodes, Casey Benjamin on vocoder and saxophone, Derrick Hodge on electric bass, and Chris Dave on drums, not to be confused with his trio which features Chris Dave on drums and Vicente Archer on bass. This foursome has put together an album that invokes memories of Quincy Jones' "Back On The Block". Great musicians and great artists making great music. Glasper does an excellent job of producing this album. Most albums that feature this many guest, with as many distinctive styles, usually end up sounding like a bunch of singles thrown together. Robert and his guests have managed to create a cohesive body of work that flows from beginning to end.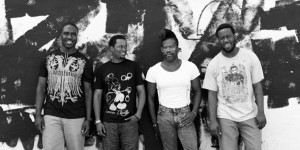 Black Radio is a mix of original material and few interesting covers. Bringing a fresh feel to Sade's "Cherish the Day", the Afro-Cuban standard "Afro Blue", David Bowie's "Letter to Hermione", and Nirvana's "Smells Like Teen Spirit". Erykah Badu creates images of a smoke filled jazz club, you know the kind where the men wore suits and the women behaved like women, on the classic "Afro Blue". Erykah reminds us just how smooth her vocals are on this track. Badu is just as comfortable on this jazz groove as she is on her signature in your face "power to the people" tracks. Sade is one of those artist who you really don't wont to hear anybody do a cover of her music. That is until you hear Lalah Hathaway and Robert Glasper's slick version of "Cherish the Day". Lalah doesn't try to overpower this hit. She instead decides to remain true to the original feel of the song, without sounding like a cheap cover.
Collaborating with Robert Glasper to write "Always Shine" isn't a stretch for hip hop artist Lupe Fiasco. Fiasco has always pushed the boundaries with his music, opting to go opposite his hip hop peers and create conscious hip hop. Add Bilal to the mix only enhances this cut. Stokley Williams didn't have to step out of his comfort zone while recording "Why Do We Try". As the front man for Mint Condition, Stokley is right at home being backed by live instruments. Williams soulful crooning makes you forget this is a Robert Glasper Experiment album and not a Mint Condition Album. The duet between Musiq Soulchild and Chrisette Michele is definitely a highlight on this album. While we are use to hearing this type of song from Musiq, it is unquestionably a different and welcome sound for Chrisette. "Ah Yeah" is a breezy pairing presenting  Chrisette in a new light.
Every song on this album could have easily been a part of their respective guest's albums, which is a node to Robert Glasper's genius. Glasper has been able to bring these artist together into one purposeful album and not compromise anybodies talent. Hopefully Robert Glasper has more friends like these on speed dial and this isn't the last such experiment for the Robert Glasper Experiment.