Leigh Jones Music In My Soul
Posted September 12, 2012 by Dante Scott in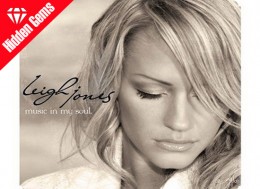 Album Info
:
:
:
:
:
Fav Tracks:
Music, Have It Your Way,Free Fall, The Words You Never Say

Our Thoughts

Los Angeles native Leigh Jones's 2008 debut album Music In My Soul is an authentic and satisfying soul album. Jones's vocals managed to impress both Berry Gordy (Motown founder) and Al Bell (Stax Records), who both lent a hand in the albums production.
Music In My Soul Leaves Listeners Wanting More
While letting my Itunes play in the back ground while I did some work a sweet voice caught my attention. I looked at my Itunes wondering "Who is this?" I was really feeling this artist. Leigh Jones? Music In My Soul? hmm. I receive so much music sometimes I don't get to listen to it all. I kept listening as I Googled her. As I read about her I wondered how did this 2008 release go unnoticed? Leigh Jones received a helping hand from some industry heavyweights in putting together her first album Music In My Soul. Mentored by Berry Gordy's son Kerry Gordy, she caught the attention of Barry himself and Stax Record's Al Bell. All the previous producers Leigh met were trying to push her in the direction of the then popular Brittney Spiers and Christina Aguilera. Jones was having none of that. Working with Kerry, she was able to put together an album that allowed her vocal talent to shine.
The late Wayman Tisdale appears on the Debarge remake "All This Love" playing bass and producing. Instead of trying to out do El Debarge, Jones gives a restrained updated version of this R&B classic. "We sellin dreams and buying souls" sings this Los Angeles, Ca native  on "Cold In L.A". Leigh gives fair warning to newcomers on what to expect when living in Los Angeles.
"Free Fall"  is a Toni Braxton-ish slow jam. Its easy to see why this was the first single off this album. You can hear similar style songs playing on adult contemporary radio stations all over the country. "Who What Why" is another slow jam Leigh pulls off with ease. She lets listeners know she has some nice vocal skills while singing about a break-up on this ballad. Leigh Jones struts her jazz chops on cuts like "Can't Get Enough Of Your Love", "I'm Leavin You" and the smoldering "Same Game".
Jones sounds just as comfortable on the jazz influenced hits and well as on the R&B jams. This is attributed to Leigh being a true fan of these styles of music. Music In My Soul is a well crafted debut album that reinforces that Leigh Jones is a serious talent. I applaud her for not going the sugar coated pop route and singing music that is truly representative of her. Now if she would only release another album.