Jeff Bradshaw Bone Appetit Double Album
Posted May 30, 2012 by Dante Scott in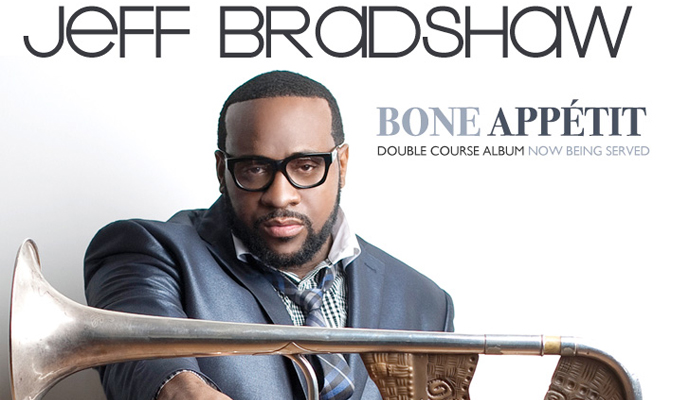 Album Info
:
:
:
:
:
Fav Tracks:
Till Tomorrow, Got Til Its Gone, So Thankful, Umi Says, N.O. Groove

Our Thoughts

2012 sophomore release from Jazz great Jeff Bradshaw
Jeff Bradshaw's Bone Appetit Double Serving Of Good Music
Jeff Bradshaw
Bone Appetit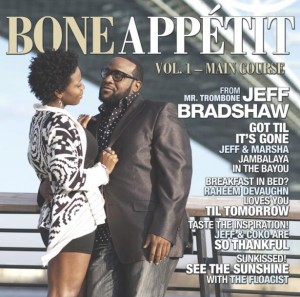 When your sophomore album debuts on the Billboard Contemporary Jazz Album chart three times simultaneously I think its safe to say you have a much anticipated album. That's exactly what Jeff Bradshaw's Bone Appetit did. In its first week "Bone Appétit – Vol. 1 Main Course" landed at #5 with "Bone Appétit – Double Issue" following at #6 and "Bone Appétit – Vol.2 Deuxieme Cours" enteed the charts at #24. Bone Appetit is a 2 volume, 20 song serving of "Soul- Jazz with R&B connotations" says Bradshaw.  Bone Appetit can be purchased in single volumes or as a 2 disc set. "Bone Appétit – Vol. 1 Main Course" contains 13 songs, "Bone Appétit – Vol.2 Deuxieme Cours" is a 7 song EP and "Bone Appetit – Double Issue" contains both volumes together.
Bradshaw's second album has enough guest appearances to satisfy your palette no matter the size. The list of guest include Raheem DeVaughn, Marsha Ambrosius, Kindred the Family Soul, Maysa Leak, Coko of SWV, musician/producer PJ Morton of Maroon 5, Hip-Hop diva Ms. Jade, Christian rapper TWyze, and female MC Natalie "The Floacist" Stewart. Bradshaw explains his latest release as Soul – Jazz with connotations of R&B, which is a pretty good assessment of what Bone Appetit brings to the table. Listeners get Jeff's signature trombome laced jazz tracks, laced with some soul and sprinkled with a little R&B.
The first single released off  this album, Til Tomorrow features Raheem DeVaughn and rapper Ms. Jade. This uptempo radio friendly single is sure to garner airplay on contemporary R&B stations across the nation. Til Tomorrow showcases Raheem in his own environment, crooning over a funky track backed by Jeff's trombone with a well place flow by Ms. Jade. Mr Trombone calls on ex Floetry member Marsha Ambrosius to cover Janet Jackson's 97 hit Got Til Its Gone. Christian rapper TWyze takes the place of Q-Tip on this one. While TWyze is far from Q-Tip's caliber he fills in nicely with lyrics that are dedicated to New Orleans's Katrina survivors.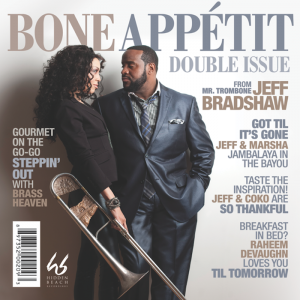 Jeff doesn't leave all the singing to his guest. On Wait Around Love Bradshaw's vocals invoke memories of Big Bub from the 80's New Jack Swing group Today. One of the highlights on this album is Jeff doing a duet with CoCo of SWV fame on So Thankful. He does a good job of holding his own against this R&B songstress. This sweet slow jam will have you wondering "How come nobody makes good slow jams anymore?". The other duet with Maysa from Incognito is a solid hand clapping jam called So Rare.  Steppin' Out and N.O. Groove give Jeff a chance to showcase his band Brass Heaven.
While he doesn't take any risk this time around Jeff still provides a full serving of good music. Listening to Bone Appetit will fill you up and have you wondering what is Jeff Bradshaw going to serve up for dessert?
Author: Dante Scott
Editor: Rande Ross