Dwele Greater Than One
Posted September 11, 2012 by Dante Scott in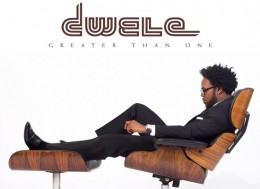 Album Info
:
:
:
:
:
Fav Tracks:
Going Learning, What Profit, Must Be, Swank, Love Triangle

Our Thoughts

Greater Than One, is the fifth studio album from Grammy-nominated singer, songwriter, producer and multi-instrumentalist Dwele. Dwele wrote every track on the album, plays keyboard, horns and drums on a majority of the songs.
Dwele Delivers Again On Greater Than One
Dwele
Greater Than One
Laid back vocals and mid-tempo grooves are what fans of Dwele have come to expect from him. Guess what ? This album is no different. On Greater Than One Dwele gives his fans a well crafted album of grooves and well written lyrics.
The first single released from Greater Than One, "What Profit", is the type of groove we have come to expect from Dwele. His smooth vocals sitting over a funky kick drum and snare, Dwele sings a cautionary tell of choosing money over the love of a good woman. Dwele tells us put your hands up if you have found that special someone on "Special".  He proves once again he knows how to appeal to both male and female with his songwriting abilities.
With the uptempo jam "Must Be" Dwele hits us with a party jam. Now before you start yelling "DWELE SOLD OUT" calm down. Dwele's smooth vocals fit just as well on this hard hitting party starter as they do on his signature laid back grooves. On this ode to the Motor City , he slows it down right near the end and lets guest L'Renee heat it up vocally. Another party jam "PATick RONald" , a play on Patron, will have listeners wondering is Dwele serious? Was this a paid advertisement? Well, I wouldn't take it that serious. Sounds like a lil studio fun, thats all.
The most infectious grooves on this album has to be "Swank". Monica Blaire and Dwele double team this track, declaring swank as the new slang. The syrupy trumpet adds to the swankyness ( I had to) of this one. Greater Than One closes with "Frankly My Dear". A lyrically clever piece about lust, integrity and morals. Dwele tells his female lover "This is our last song" after discovering she has a man via her Facebook. But he is hesitant to leave her because she is "so damn fine". In the end his common sense takes over and he bids her a final goodbye.
While laid back vocals and smooth grooves may seem like a simple formula Dwele continuously impresses listeners with his song writing and production. He has found a way to get to another level with his lyrics and stay true to his style.  I for one am glad Dwele is in his own lane and doesn't deviate from it.