Twilight Breaking Dawn Part 2 Trailer
Posted September 20, 2012 by Dante Scott in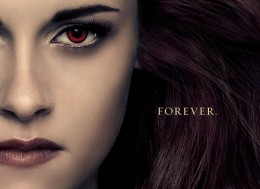 Movie Info
:
:
:
:
Synopsis
After the birth of Renesmee, the Cullens gather other vampire clans in order to protect the child from a false allegation that puts the family in front of the Volturi.
Twilight Breaking Dawn Finale
After the birth of her daughter Renesmee and now a vampire, Bella finds herself enjoying her new life and abilities, with the exception of her being angry at Jacob for imprinting on Renesmee. But there is still more to come as the vampire Irina misidentifies Renesmee as an "immortal child", a child who has been turned into a vampire, and because immortal children are uncontrollable, creating them has been outlawed by the Volturi. After Irina presents her allegation to the Volturi, they plan to destroy Renesmee and the Cullens. In an attempt to survive, the Cullens gather other vampire clans from around the world, the Amazonian, Denali, Egyptian, Irish, Romanian covens to help them and stand as witnesses to prove to the Volturi that Renesmee is not an immortal child.
 Follow The Twilight Saga