The Croods Movie Trailer
Posted November 2, 2012 by Dante Scott in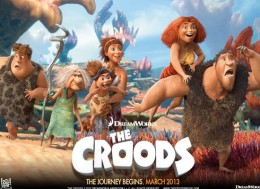 Movie Info
:
:
:
:
:
Synopsis
Set in the prehistoric era, when a man's position as a "Leader of the Hunt" is threatened by the arrival of a prehistoric genius who comes up with revolutionary new inventions like fire.
The Croods Movie Trailer
Surviving in a volcanic world is tough enough, but caveman Grug (Nicolas Cage) gets a rude awakening when an earthquake forces him to leave behind the only world he knows. With his family in tow, he ventures out into the volatile world in search of a new home. The situation becomes even more complicated when Grug's family — in particular his oldest daughter, Eep (Emma Stone) — falls for a nomad (Ryan Reynolds) they encounter on their dangerous journey. This quirky, imaginative stranger's search for 'tomorrow' is at odds with Grug's reliance on the traditions of yesterday.