Fruitvale Station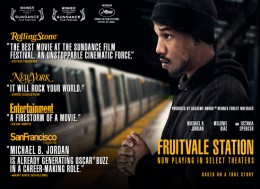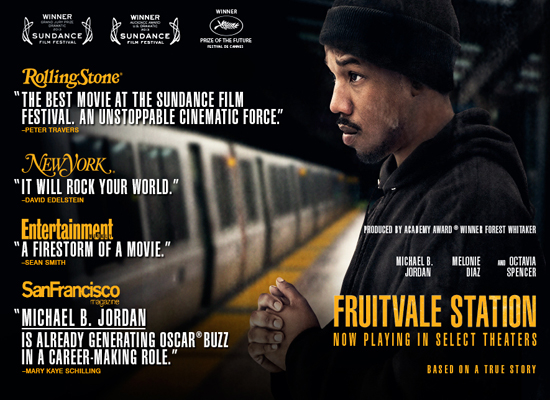 Movie Info
:
:
:
:
:
:
Synopsis
Winner of both the Grand Jury Prize for dramatic feature and the Audience Award for U.S. dramatic film at the 2013 Sundance Film Festival, director Ryan Coogler's "Fruitvale Station" follows the true story of Oscar Grant.
Fruitvale Station arrives in theaters as the George Zimmerman murder trial lurches forward and not two weeks after LeVar Burton explained on CNN that when he's stopped by police he makes sure to remove his sunglasses and hat, putting his hands in plain sight to show that he isn't armed. "I do that because I live in America," he said.
That would be Reading Rainbow's LeVar Burton, Geordie La Forge himself, afraid to be killed by police because he's African American and male. Later, when Burton appeared on The O'Reilly Factor to repeat this message, Bill O'Reilly tried to shut him down with a little verbal condescension about black crime statistics. O'Reilly's refusal to understand white privilege notwithstanding, it's still unlikely that Burton's preventive preparation for police-on-citizen violence would have helped real-life murder victim Oscar Grant, who was unarmed and still shot to death by a police officer at a Bay Area Rapid Transit station early on New Year's Day, 2009.
Played here by Michael B. Jordan in writer-director Ryan Coogler's powerful yet still polite feature debut Fruitvale Station, Oscar is seen as a complicated young man whose life involved aspiration, responsibility and drive, as well as the ability to screw it all up every so often thanks to an unfortunate relationship with impulsive decision-making skills. In other words, a regular guy who'd been in jail before but was doing his best not to go back for the sake of his mother (Octavia Spencer), girlfriend (Melonie Diaz) and daughter.
Jordan's Oscar isn't a saintly movie martyr, he's young and struggling against the monster of poverty lurking in the background, but he's essentially good. He's shown losing a job, resisting a return to drug dealing for a living, trying to be a present father to his toddler. And throughout the events leading up to Oscar's murder, Coogler's approach is to hang back and observe, sometimes more successfully than others. When Oscar is seen progressing through his daily grind unburdened by the intrusion of foreshadowing or heavily symbolic injured animals (he attempts to help a dog hit by a car), it's cinematic social realism almost as confident as any art-house staple by Jean-Pierre and Luc Dardenne. When Coogler stumbles it's that much more glaring in contrast to the cool, calm quality of the rest of Fruitvale Station.
Taking the chance on a dramatic feature instead of a documentary on the same subject, Coogler's Fruitvale Station proves that he's worth the attention this film has already received at the Sundance Film Festival and will most likely also receive from moviegoers. The hot-button subject matter and his restrained approach demonstrates that he knows better than to pander to the film's built-in sympathetic audience. Some narratively unnecessary moments in the last act still avoid the kind of histrionics and overstatements that would have sunk the whole thing. Coogler lets the viewer build his or her own sense of outrage; he refuses to lay it on thick himself.
Now, will Bill O'Reilly watch Fruitvale Station? Maybe. Will it convince him that he lives in a bubble created by his skin color? What do you think?
Author: Dave White for movies.com