Fast and Furious 6
Movie Info
:
:
:
:
:
:
Synopsis
The cast of FF5 return for Fast and Furious 6 to help Dwayne "The Rock" Johnson catch bad guys in the biggest and loudest of the Fast and Furious franchise.
Fast And Furious 6 Proves More Is More
The cars and their drivers are back in Fast and Furious 6 with a clear message about drag racing that began not long after they all took a break and temporarily handed the wheel over to Tokyo Drift. That message, now part of the official Fast/Furious, Inc. bylaws and recorded by the crew's Bikini Secretary into the annual shareholder's minutes, is that simple drag racing is not a skill one learns and develops as pure practice; it's a means to an end as you become a fast-n-furious grownup. Sure, 12 years ago it was fine to just have a house party and drive lightweight vehicles extremely fast up and down your low-rent block. But post-post-post-adolescence shows up faster than you can say Breakfast Club and then what are you going to do with the dwindling number of school nights you have left before your heart dies? Answer: use that drag racing prowess to become an international — yet weirdly ethical — criminal, fool.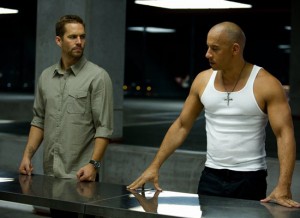 In Fast and Furious 6 the Diesel/Walker/Rodriguez/Luda/Tyrese/Kang+Gisele4Ever Collective has to help The Rock and colleague Gina Carano (whose acting is so bad and Haywire fighting skills so good that they almost equal perfect zero) do car-battle with a look-alike team of bad people (led by Brit action up-and-comer Luke Evans and featuring the extreme fighting technique of Joe Taslim from The Raid: Redemption). The bad people have a chip that will do murder-things and this means that in Fast and Furious 6 tanks will be driven and martial arts employed and guns fired and cargo planes drag-raced with. This is all very good news for our heroes and for you, the viewer, because summer's here and the time is right for getting super dumb.
But what kind of dumb? Obviously, there's the kind that simply knows and understands a finite amount of information. To the outside, non-dumb observer, that's the sad variety of dumb. It's a limited life and everyone except the limited subject knows this. Of course, to the limited subject, it's a fine way to walk through the world; to paraphrase a bad Janeane Garofalo rom-com from the 1990's, The Matchmaker, that kind of dumb is like being high all the time.
The Fast and Furious franchise, though, is a dumb with intention. It's not a problem to be solved, it's an aesthetic to swim around in, a worldview divorced from good and evil, a bottomless cave to explore, if you could drive a car down into a bottomless cave, that is. This kind of dumb can know itself and reach for a kind of purity: the dumber it gets the more successfully it exists. It's also like being high all the time, but you chose it.
Avoid revisionism for a moment and think back to the first two films of this saga. They were dumb, yes, exciting, yes, but they were also without confidence in their dumbness and they were stingy with the excitement. They thought stern was the move, that being "about" something was a valid enterprise, placing characters on boringly defined sides of right and wrong. It hinted at future greatness when Diesel, in one heartfelt scene, equated public transportation with the very death of the soul, and its matter-of-fact racial make-up, a world where everybody just exists side by side, was unlike anything in mainstream film at that point. But its sexual politics were as murky as recently changed oil: emasculation, sublimated needs for male intimacy and women treated as blow-up dolls until proven capable of some car-related activity (Michelle Rodriguez helped eradicate that last problem almost single-handedly). Finally, everything clicked in the exhilarating Fast 5. Serious-Face was traded for lighter comedic character moments and earnest proclamations about family identity and loyalty were delivered like dropped anvils, easily read as a sort of internal mockery.
That more-is-more tone continues in Fast and Furious 6. Letty (Michelle Rodriguez) is back, valiantly brawling with Gina Carano while Gisele (Gal Gadot) pulls not one but two guns out of her skimpy outfit for quick-witted bullet spraying, restoring the male-female dynamic to a state of near balance. The ensemble has doubled and makes you wish that this crew of baddies would somehow switch teams for future sequels instead of being dispatched by our heroes. And best of all, the car action has taken on even more insane and preposterous quality. To describe the stunts in Fast and Furious 6 would not only spoil everything but also risk your ability to believe. Because this is the apotheosis of dumb, achievement unlocked, loud-louder-loudest pleasure, firing a gun at a snack vending machine because coins take too long. And Part 7 can't come fast enough. Next week, please.
Source: Dave White ~ movies.com