Steve Supreme Zürich, Switzerland
Posted September 18, 2012 by Dante Scott in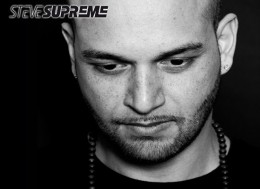 DJ Facts
:
:
Our Thoughts
From an early age Steve Supreme knew his calling was DJing. Steve Supreme has turned a child hood fascination into a world wide business.
Steve Supreme – A Life Long Love Affair With Music
At the age of 6 Steve Supreme realized he wanted to be involved with music some how some way. His love for music would constantly grow until he got opportunities to DJ parties. Once Steve Supreme got a taste of DJing he has never looked back.
Steve Supreme has gone on to DJ gigs in Germany, Croatia, Sweden and the USA.  He has also made an impact on several radio shows including Radio Energy, Radio Lora, Alistradio NYC / Goom Radio NYC and today is part of the Radio 105 DJ Team. With several mix-tapes floating around its easy to see why Steve Supreme is in high demand all over the world.
Check out what Steve Supreme had to say when Wat's Nex? finally caught up with him.
How does playing in the USA differ from playing in Switzerland?
Swiss people are on the same tunes for years. Not too much skill is needed to rock a Swiss crowd. Folks back in the days wanted to see some technical stuff in a DJ's set. Not these days.
In the States it depends. If it is a Top 40 crowd like in most big places, Vegas, Miami, New York and L.A. not to much skill is needed, but at least they party hard to the newest tracks out there. But if you are with a, lets say "smart" crowd, you'll definitely have to bring out all of your skills and perform hard. But you get rewarded more with cheering and crowd noise, since they understand what you are doing.
You became interested in music at the age of 6. Who exposed you to music? When did you actually begin to DJ?
I got into music like this because of my Dad (he played Guitar and was singing like Elvis a lot J when I was a kiddo ), plus me and my sis, who's 4 year older then me,  were addicted to Sky channels "Music Box" and then when MTV was aired the first time. That was it. Our favorite channel was born, well back then when they were showing a lot of videos and not just this reality tv crap.
My first gig was sixth grade prom night. I used 2 tape decks. I bought my first set up 3 years later after saving all my money to buy the same set up Dre and Ed Lover were using on YO MTV Raps.
Most memorable gig?
Oh there's a few: Palms Playboy Club in Las Vegas, Club Eden in Ibiza, Open Air Frauenfeld 2011 Switzerland,  Jay-Z  after-party (with Beyonce and Memphis Bleek), after-party for NAS and Jay-K from Jamiroquai, Sutra Lounge New York with Tony Touch, 1OAK New York.
You have a few mixtapes out right now. Name a few.  Are they still available? If so where can fans get them?
Well it's been a couple of mix-tapes the last few years, like: That Freshness Vol. 1 – 4, HipHop is Bouncin Back, Mellow and the "Battle of the DJs" Mixes from the Years 2010, 2011 and 2012
Where can you get them? The Battle of the DJs Mixes 2010 and 2011 were official Universal Music releases, you can download them on itunes.  All the other Mixes you can order at info@supremussounds.com check my Soundcloud page http://soundcloud.com/djstevesupreme or tune in to www.radio105.ch each Thursday from 10 to 11pm (Zurich Time) or Saturdays on BM Radio Germany www.bmradio.de each Saturday from 8 to 9 pm (Hamburg Time).
Are you working on any new projects?
I'm working on couple of mix-tapes and a rap album with some old rappers I grew up listening to.
Name 5 records you always have with you for gigs?
Empire State of Mind – Jay-Z feat. Alicia Keys
Rack City – Tyga
Who's That Girl – Eve
One Blood – Junior Reid
Like Glue – Sean Paul
What is the one event, party or club you really want to spin at?
Liv in Miami
Marquee in Las Vegas
Ushuaia Ibiza
Hot 97 Summer Jam
Any big, nice club in Los Angeles