DJ Soulchild Basel, Switzerland
Posted June 1, 2012 by Dante Scott in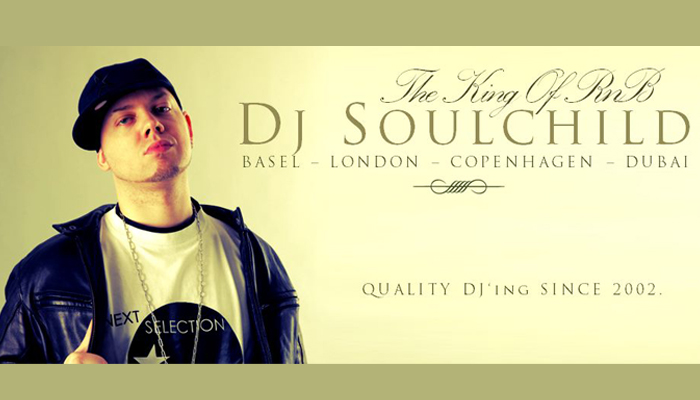 DJ Facts
:
:
Our Thoughts
Getting his inspiration from watching early episodes of Yo MTV Raps, DJ Soulchild went from boy band to top notch DJ.
DJ Soulchild The R&B King – From Boy Band To International DJ
With just over a decade in the DJ game DJ Soulchild has compiled quite a resume. DJ Soulchild has played the UK, DUBAI, FRANCE, GERMANY, ITALY, DENMARK, FINLAND & BELGIUM. Playing these international destinations has allowed Soulchild to hone his skills and sit atop the list of Switzerland's best DJ's. Wat's Nex? recently caught up with DJ Soulchild and got a chance to ask him a few questions. Read On…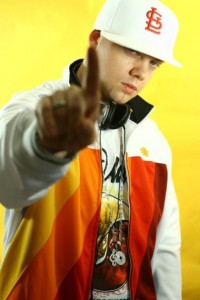 Who was the first DJ you heard that made you want to become a DJ?
I already had a fascination for turntablism, scratching and mixing at an early age, especially whenever I watched "Yo! MTV Raps", but I think my earliest memory of truly being wowed came through listening to the first "Hip-Hop Soul Party" mixtape by a famous French DJ called DJ Cutkiller back in '96. To this day, that CD still remains my absolute favorite R&B/New Jack mixtape EVER and Cutkiller still remains one of my biggest inspirations.
At what point did you decide that this was the career for you?
I used to be the lead singer of a Swiss R&B/Pop boy-band, we were together for 9 years and disbanded in 2004. I had already been collecting vinyl and DJing on the side as a hobby, but after the group split up I needed a "Plan B" to express myself musically and represent the music I loved. So I started taking the DJing more seriously, things got rolling pretty quickly and I haven't looked back since.
How did you get the name Soulchild RnB King? With a name like Soulchild The RnB King does that have an effect on what people think of you?  Do you just play RnB ??
Contrary to what most people think, I didn't give myself that name, I just rolled with it! While in school and during my hobby DJ phase throughout my boy band days I used to collect CD albums and singles, as well as vinyl and make cassette or mini-disc R&B compilations for my friends, so that they had the latest releases. I used to be their go-to guy for new music and eventually people started calling me "The R&B King". So when I started taking DJing seriously, I knew that I needed to add a provocative title if I wanted to gain attention, but not a lie or something that sounded too ridiculous. So I used the "R&B King" title and of course a few DJ's were skeptical or had something negative to say about it, but at the end of the day it has made me stand out and helped my career in so many ways. Besides, I have the knowledge and passion to back that title up, so it is what it is. And no, i don't just play R&B, not at all. First and foremost I am a multifaceted crowd rocker, which wouldn't be possible with a pure R&B set, that would be far too monotonous, for the crowd and myself. I'm pretty open-minded and versatile, I play everything from R&B, Hip-Hop, Dirty South, Dancehall, Reggaeton to Disco and Vocal House. I like to take people on a journey through different era's, but still keep it fresh and exciting, without forgetting my trademark R&B touch, of course.
Most memorable set you played.
Oh, that's easy! My first trip to Copenhagen, Denmark where i played at O'Leary's Sports Bar was the best gig ever, hands down. It was the official after party of the GAM3 Street Ball Tournament and I don't think I have ever witnessed such a wild, knowledgeable and open-minded Urban crowd before in my life! I was able to drop classic tunes I had never dropped anywhere else before and get an unexpected, crazy reaction from them. Everything about that night was simply incredible! Since then i have been holding down a residency in Copenhagen and it's a pleasure every time, love that place.
Your favorite DJ's. Who inspires you?
Well, like I already mentioned, DJ Cutkiller is one of my all-time favorites, as well as his partner DJ Abdel. My homeboy up in Holland DJ ITL is a fantastic club DJ too. I really admire his energy and delivery, plus we have pretty much the same taste in music. In terms of diversity, creativity and longevity I would have to go with DJ Jazzy Jeff, from his sets to production, that dude is an absolute beast and an inspiration on so many levels.
Name 5 tracks that always get the party going.
Obviously it changes constantly, and Switzerland is always a little behind compared to you guys in the U.S. – but right now the crowd goes wild to "Tyga – Rack City", "Drake – Motto", "Jay-Z & Kanye West – N***as In Paris", "Nicki Minaj – I Am Your Leader" and "Red Café ft. Ryan Leslie – Fly Together". You know, the usual suspects. Hahaha!
What are the upsides that technology brings to DJing? Downside?
Well, the upside is definitely the transportation. Carrying your laptop and Serato is by far more enjoyable and easier than carrying multiple heavy vinyl crates to and fro, especially when traveling around Europe. If I still had everything on vinyl and lost my crates full of precious black gold while traveling around Europe, I think I would want to kill myself, hahaha! The downside would have to be the fact that EVERYONE thinks they can buy a laptop and Serato and instantly become a DJ nowadays. Seriously, I am absolutely sick and tired of seeing all these models, singers and rappers infesting the DJ scene with their wack performances and getting booked solely for their looks and name, just so they can make a quick buck! And then on the other side you have these attention-seeking kids who want to become a DJ for all the wrong reasons the fame, chicks, free drinks and what not – and again, no skills, no musical knowledge or passion whatsoever. It shows in their poor mixing and typical Top 40 billboard playlists. Sorry, I just can't respect that bulls***, because they're the ones taking all the gigs for low fees, and since most club owners don't have a damn clue themselves, they neither give a damn about skills or quality. As long as commercial music is being played and the people are staying and generating profit at the bar, everything else has no value anymore. Not only the DJ scene, but the entertainment business in general has changed drastically over the past decade – thanks to the internet and all these casting shows on TV, we now have millions of "wanna-be's", but not enough "can-be's".
Any projects you're working on right now?
Yes, quite a few actually. One of my main priorities right now is a female R&B/Pop artist I manage called "FAYE B". Her debut single "Finally" is on the wa. We shot the video to it in London just recently and I can't wait for people to see it. I am also working on my upcoming R&B remix compilation "RE:FRESH", which will consist of new remixed versions of R&B classics, featuring some dope guest artists. The follow-up to my successful mixtape "R&B Secrets, Vol.1" is also in the making. I was supposed to do a world tour last year, but had to postpone it due to other commitments, so I am catching up on that right now too. So yeah, busy but exciting times right now!
Author: Dante Scott
Editor: Rande Ross
Check out DJ Soulchild mixes & remixes
Connect With DJ Soulchild