DJ Big Tex San Antonio, Tx
Posted September 11, 2012 by Dante Scott in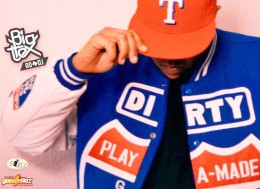 DJ Facts
:
:
Our Thoughts
San Antonio's Dj Big Tex is a DJ veteran with 10 years in the game. More than just a local DJ , he has rocked parties on an international level.
DJ Big Tex Rockin From Texas To Sweden
A member of the Go DJ Global Squad, DJ Big Tex is a veteran with 10 years plus in the game. Hailing from San Antonio, Texas, DJ Big Tex was inspired by the legendary DJ Screw to try his hand at party rockin.  In 2001 after some legal issues (read the interview for details) he picked up and moved to Switzerland and began spinning at clubs in Switzerland, Germany, Austria and Italy. Not satisfied with being just a club DJ, Big Tex has also been the tour DJ for Destiny's Child and Solange Knowles. DJ Big Tex has worked with artist in every genre of music from 50 Cent and Kid Cudi to Bob Sinclair and Joachim Garraud. So if you walk into the party and the DJ throws up the "Hook'em Horns" sign you know its DJ Big Tex and you better get to the dance floor.
How does DJing for a crowd overseas differ from crowds in the states or Texas?
Wow, well first off, there is no way in hell I will play the music I play in Switzerland at a club in Texas. I
enjoy breathing and don't want to get shot. That's two different worlds. Texas is home and I know my
home. I can play Z-Ro, Trae, some classic DJ Screw in the club and the folks would love it. Switzerland is
very particular. They only follow the iTunes top ten and whatever music is on their wack music video
channels here. At the end of the day, I love all forms of music and I love rocking clubs, so if I have to play
tracks every now and then that I disagree with, then so be it. You have to make some minor changes to
stay active in this game. I am 100% hip hop but I got a crowd to bring and keep on the dance floor so
some other tactics may be necessary.
Name 5 songs a DJ should always have in their crate.
In 2012? In Switzerland or Texas?
For Switzerland:
1. 2Pac- California Love
2. Avicii- Levels
3. Beyonce- Crazy In Love
4. Fatman Scoop – Be Faithful
5. Any Rihanna song
(I know, wack right?)
For Texas:
1. Fat Pat – Tops Drop
2. Lil Keke – Southside
3. Slim Thug – Houston
4. Beyonce – Single Ladies (in Switzerland too)
5. UGK – International Players Anthem
What is your dream gig?
To headline Trae Day in Houston, Texas.
Most memorable gig?
2006, Opening the final tour of Destiny's Child in front of 10,000 people. Unforgettable… AND I rocked that
arena!
With the amount of years you have been DJing I think its safe to say you learned to spin with 2
turntables, mixer and vinyl. Do you think today's DJ's have it easy because of technology? Do you think technology has made it too easy to DJ nowadays? Do you embrace technology?
Now you've struck a nerve. I taught myself to DJ. I had some help from other folks as far as scratching
and building my set, but the initial stages were all me. I have had thousands of vinyls and I was hesitant at
first to make the move to Serato. The technology is good if you don't cheat. A LOT of these DJs in Europe
are frauds and they are disrespecting the game. I have met some of these clowns that said they went to
DJ school. DJ school? Are you serious? Who's the teacher? DJ Qbert has a DJ school for scratching but
not the basics. The basics are built on how you understand and FEEL the music. Roc Raida of the XEcutioners would turn over in his grave if he ever heard that people were going to DJ school. And yes,
the technology has put a dent in the game. If Paris Hilton is a DJ, we have messed up
completely. I embrace the technology for one reason, I do not have to drag around 4 or more record
cases anymore.
Are you a fan of other DJ's? If so who? If not why?
Of course. But I won't say no names because this interview is about me.
What made you pickup and take your craft overseas?
My probation officer. He was a real jerk. I got invited to DJ my cousin's birthday party right around the
time I got hit with a new charge and violated my probation. He was playing basketball in Switzerland at
the time. It was either jail time or party time. After 4 years overseas, I lawyered up, got all warrants
removed and got all charges dropped. Let freedom ring.
Connect With DJ Big Tex